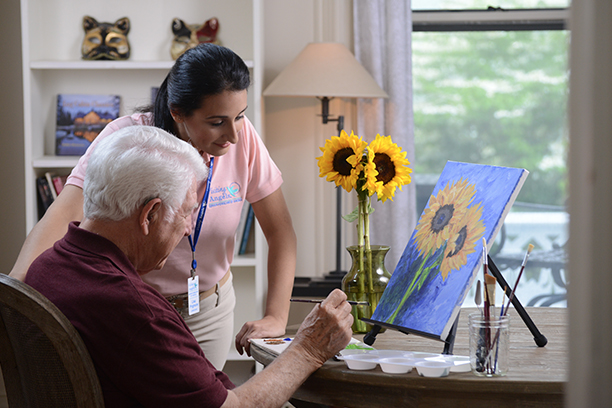 Trusted, Local Home Care at Visiting Angels® Detroit
Sometimes, choosing who to trust with the care of a senior loved one can seem more daunting than providing the care itself. You want to know that your relative's care is in hands that are as strong, as capable, and as compassionate as yours. It also helps to know that the home care agency you choose is a local one, based right here in Detroit with a vested interest in the community. Visiting Angels® Detroit is just that, and we're dedicated to providing exceptional home care to seniors in our community.
Choosing Your Home Care Agency in Detroit
How can you ensure that top-quality care is being given to your loved one when you're not there? Choosing the right provider can make all the difference to both your relative, and your peace of mind. So what should you look for when selecting a provider for your loved one?
A few things you may want to look for in an agency:
Prioritizes personalization - We'll design a plan that meets your loved one's needs, within your budget and match them with a caregiver that suits their individual personality.
Understands memory loss - The many forms of dementia can pose some of the most difficult age-related obstacles, which is why Visiting Angels Detroit offers memory-loss care for those who need it.
Puts your loved ones first - We'll match our schedule to your relative's existing routine to preserve their current lifestyle and create as little disruption as possible.
Is always there when you need them - Days, nights, evenings, weekends, even last minute - we can schedule visits so that whenever you need home care, we have you covered.
Keeps the care in home care - Whether they're helping your loved one to get dressed, or driving them to doctor's appointments, our companion caregivers perform all their duties with sensitivity and compassion to preserve the dignity of your loved one.
Getting started with outstanding home care in Detroit is easy and free. All it takes is a phone call. We'll send someone right to your door for a no-cost consultation.
Call Visiting Angels Detroit today and get your loved one on the path to exceptional home care services.
Serving Wayne and Oakland Counties
Visiting Angels DETROIT, MICHIGAN
11000 W McNichols Rd #217
Detroit, MI 48221
Phone: 313-272-8282
313-272-9401