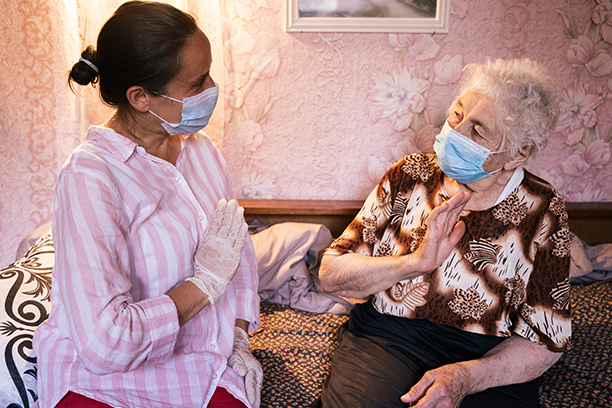 Memory Care Provider in Detroit
When Loved Ones Want To Go Home
If you're taking care of a loved one with dementia, there will come a time when they ask to go home. That's true even if they're already home. For those with dementia or other memory disorders, this request is very common. As a memory care provider, you may not know the best way to respond. Visiting Angels® Detroit can help you understand what to do next.
Let's take a quick look.
3 Tips For When They Ask To Go Home
For over 15 years, Visiting Angels Detroit has been a memory care provider for seniors in the area. We started the agency when a family member became unwell, so we have firsthand experience in family caregiving.
When someone with dementia says, "I want to go home," here's what we suggest:
Be reassuring. When someone with dementia starts asking to go home, they're really communicating a feeling of disorientation, discomfort, or alienation. You want to respond with reassurance. Use a calm and compassionate voice. Don't argue or explain, since this is most likely to agitate them further. Instead, acknowledge their discomfort. Light physical contact, like a gentle touch on the shoulder, can be really meaningful.
Engage with their feelings. You never want your loved one to feel ignored or minimized in a moment of pain. Try to really engage with them. As a short-term strategy, you may even tell them you'll take them home. Ask them about their home and what they love about it. Find questions that will make them less distressed and more talkative. You want to start slowly redirecting their attention from the idea of going home.
Steer them elsewhere. Eventually, you'll want to find an opening to redirect their attention. Find a diversion that will engage them and give them comfort. Maybe you can ask if they'd like a hot drink before they go home, and use this opportunity to steer their attention in a new place. Maybe you can ask for their help finishing some light errands, if you know they love to be busy.
Find A Compassionate Memory Care Provider in Detroit
With our agency, family caregivers can get the support of a professional memory care provider. We can work with you to fulfill care responsibilities, to reduce your workload, or to offer respite. We support seniors and their families in:
Detroit
Oak Park
And throughout the surrounding communities
Find a compassionate memory care provider near you. Start a no-cost consultation by calling Visiting Angels Detroit today.
Serving Wayne and Oakland Counties
Visiting Angels DETROIT, MICHIGAN
11000 W McNichols Rd #217
Detroit, MI 48221
Phone: 313-272-8282
313-272-9401