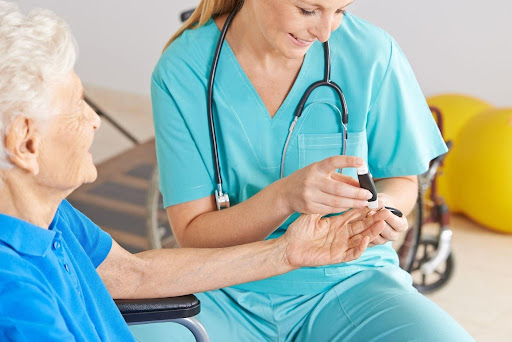 Understanding Diabetes
According to the Centers for Disease Control and Prevention, nearly 34.2 million adults in the United States have diabetes, and many are unaware they have it. Since diabetes is common and preventable in some cases, it's essential to learn the signs of diabetes and how to reduce the chances of developing the disease.
What is Diabetes
Diabetes is a chronic condition affecting glucose. Glucose is a sugar that cells and the brain use for energy. The body gets glucose from food, but it's also naturally produced by the liver. When there's too much sugar in the blood, increasing blood sugar levels, the pancreas releases insulin. Insulin is what helps the body turn sugar into energy.
People with diabetes either don't produce enough insulin, or their bodies don't use insulin properly. Diabetes can occur at any age, but people are more at risk the older they get. Signs of diabetes include increased thirst, frequent urination, extreme hunger, unexplained weight loss, fatigue, irritability, blurred vision, slow-healing sores, or frequent infections. If left untreated, diabetes can lead to severe health concerns like heart disease, vision loss, and kidney disease.
Types of Diabetes
There are a few main types of diabetes.
Type 1 Diabetes
Type 1 diabetes is when the body doesn't make insulin. The exact cause of Type 1 diabetes is unknown, but it's believed to be caused by an autoimmune reaction. In Type 1 diabetes, the immune system destroys insulin-producing cells in the pancreas. Without insulin-producing cells, the body can't make insulin, and sugars build up in the bloodstream.
Type 2 Diabetes
Type 2 diabetes is when the body doesn't use insulin properly. The body's cells resist insulin and are not transported to the cells for energy. Instead, the sugar builds up in the bloodstream. Type 2 diabetes makes up most diabetes diagnosis, and it can be prevented with proper lifestyle changes.
Gestational Diabetes
Gestational diabetes only develops in women during pregnancy. During the pregnancy, the placenta produces hormones that make the cells resistant to insulin. In most cases, gestational diabetes goes away after the child is born. Gestational diabetes does put the unborn child at risk for obesity and Type 2 diabetes later in life.
Prediabetes
Prediabetes is not diabetes, but it does substantially raise the risk of developing Type 2 diabetes. Prediabetes is when blood sugar levels are high but not high enough for a doctor to diagnose diabetes. If caught early, prediabetes is reversible with lifestyle changes such as exercise and healthy eating.
Treating Diabetes
Diabetes treatment depends on the type, but it typically includes a mix of blood sugar monitoring and medications.
Blood Sugar Monitoring- Monitoring blood pressure is the only way to ensure blood sugar levels are healthy. Some people check their blood sugar once a day, and other people need to check it up to four times a day. In addition to daily monitoring, a doctor may recommend A1C testing every two or three months to get an average reading of the blood sugar levels.
Insulin Therapy- People with Type 1 diabetes need insulin therapy to live, although people with Type 2 may also receive insulin therapy. Insulin therapy is a method of getting insulin into the body.
Medications- Medications are often prescribed for diabetes to stimulate the pancreases to produce insulin. Other medications work to make the tissue in the body more sensitive to insulin, and doctors can prescribe medications orally or through an injection.
Lifestyle Changes- Maintaining a healthy lifestyle is one of the most critical factors in managing diabetes. It's essential to eat a well-balanced diet and exercise regularly to maintain a healthy weight.
How Visiting Angels Can Help
If your aging loved one is struggling with diabetes and needs assistance caring for themselves at home, the team at Visiting Angels Douglasville, Georgia, can help. Our caregivers can assist with meal planning, grocery shopping, cooking, and medication reminders. In addition to assisting seniors in taking better care of their diabetes, caregivers can also provide light housekeeping, mobility assistance, transportation, and personal grooming. Our Douglasville office serves those in Douglasville, Lithia Springs, Smyrna, Mableton, and the surrounding Georgia communities. If you'd like to learn more about our services, you can complete this online form or call us at 678.383.1962.