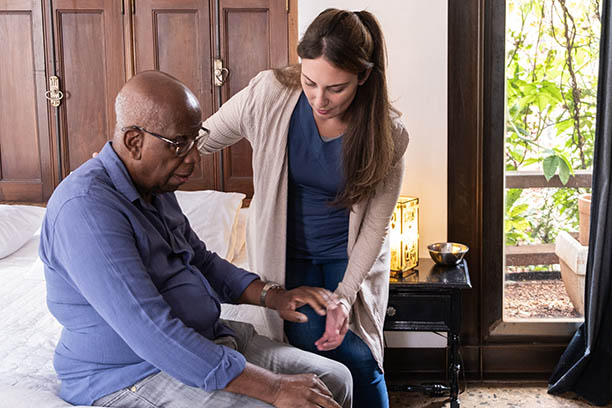 Visiting Angels Care For Seniors Provides Clients With The Holistic Care They Need in Douglasville, GA
Visiting Angels of Douglasville Care For Seniors Focuses on Our Clients Holistic Care Needs
At Visiting Angels of Douglasville, GA, we understand palliative care. Often, many individuals tend to utilize the terms "palliative care" and "hospice care" like they're interchangeable. But the truth is that they're thought of as being two entirely different types of care.
Hospice care is often reserved for those who are nearing the end of their life. On the other hand, palliative care is for anyone, regardless of life expectancy, who is looking to focus on their well-being and health.
The goal of our Certified Care Program is to elevate our client's quality of life through specialized, non-medical care and assistance.
Certified Care Program
Our care program is a part of our Life Care Navigation collection of senior care services. Through our program, we approach care for seniors through a holistic mindset. We yearn to restore hope and assist with the healing process.
To reach these goals, we focus on the individual including their physical, emotional, spiritual, and social needs.
We cater to the physical needs of the individual by noticing and responding to physical signs and providing non-medical care to comfort them.

We cater to the emotional needs of the individual by focusing on our compassionate approach and offering support for seniors that may be dealing with anxiety, depression, depression, and loneliness.

We cater to the spiritual needs of the individual by restoring hope, helping them find relief from age-related difficulties, and treating each senior with dignity and respect.

We cater to the social needs of the individual by building strong relationships with our clients and focusing on companionship and conversation.
Getting Started With Visiting Angels of Douglasville, GA
If you believe that your loved one would benefit from receiving our care, don't hesitate to get in contact with us. At Visiting Angels of Douglasville, we work with you to create a personalized care plan that caters to your loved one's wants and needs. We also give you the option to Select Your Caregiver and the convenience of a compassionate, client-focused approach on care.
Schedule a free care assessment and learn more about our approach to palliative care for seniors by calling us.
Serving Douglasville, Lithia Springs, Smyrna, Mableton and Surrounding Areas
Visiting Angels
DOUGLASVILLE, GA
3400 Chapel Hill Rd #801
Douglasville, GA 30135
Phone: 678-383-1962
Fax: 678-324-7612