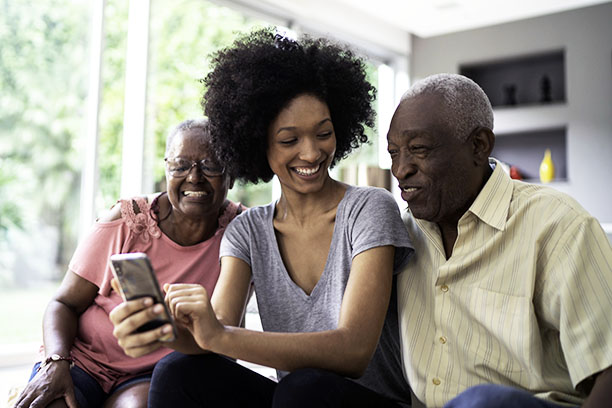 Non Medical Home Care Services in Douglasville, GA
At Visiting Angels of Douglasville, GA We Understand That Seniors are Hesitant to Use Technology. Our Caregivers Work Patiently With Them to Provide Non Medical Home Care Services That Utlizies Technology
Taking care of your elderly loved one is not only limited to fulfilling their physical needs. A holistic approach to non medical home care services is to ensure that they are also provided with their social needs. Social needs refer to communicating and interacting with others. But with most loved ones restricted within the confines of their home, the best way to provide their social needs is by using technology.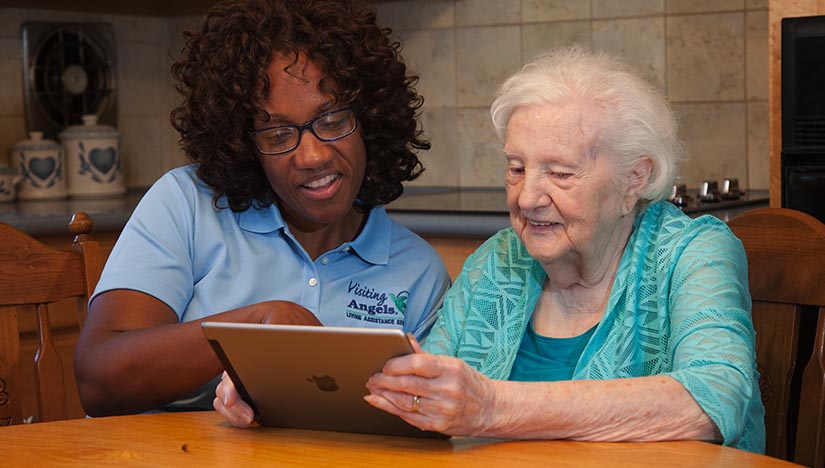 Here at Visiting Angels of Douglasville, GA, we understand how important it is to fulfill the social needs of your loved one. Therefore, part of the non medical home care services that our caregivers provide is the social care program. Under this program, our caregivers will teach your loved one how to use modern technology to stay connected to friends and family as well as discovering new things. This program is really helpful, especially if your elderly loved one lives all by themselves.
Using technology to enhance socialization among the elderly has shown to be effective in reducing symptoms of depression by as much as 20%. In another study conducted by researchers from the University of Arizona, those who use Facebook and other social media platform have better mental updating skills and a working memory. Using these sites can also improve the breathing rates and brain simulation of seniors.
The benefits of using technology have been proven and our social care program uses technology to enhance the lives of our senior clients. Under this program, our care providers will teach your loved one how to use the mobile phone and set up their social network accounts so that they can start interacting with their family. We will also teach them how to do online shopping or research information on search engines so that they can get in touch with the rest of the world, despite their limitations.
We understand that technology and the elderly do not mix together. Many of our clients start out as adamant to learn about technology but our care providers are ever so patient with them. Thus, if you want to enrich the lives of your elderly loved ones with non medical home care services, be sure to enroll them in our non medical home care services.
Contact Visiting Angels of Douglasville, GA to learn more about how our social program utilizes non medical home care services
Because of this program, I was able to experience two of the greatest joys in life – becoming a grandmother and seeing my son become a new father. Skyping and Facebooking with my son and his family are now a normal part of my life. It helps me feel like I'm still an important part of their lives even though I'm miles and miles away.

* Washington, D.C. based Phoenix Center
** Journal Cyberpsychology, Behavior, and Social Networking
Serving Douglasville, Lithia Springs, Smyrna, Mableton and Surrounding Areas
Visiting Angels
DOUGLASVILLE, GA
3400 Chapel Hill Rd #801
Douglasville, GA 30135
Phone: 678-383-1962
Fax: 678-324-7612