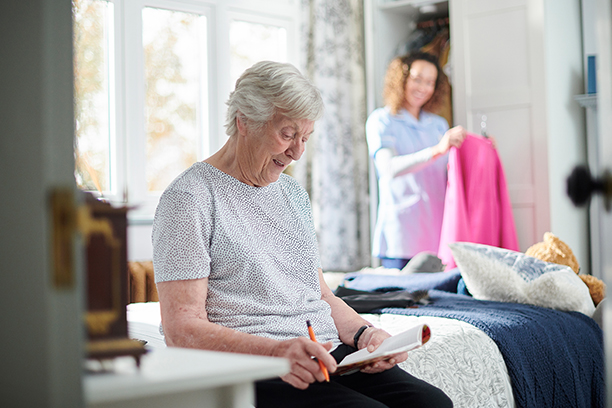 If You Need Senior Care Aide in Mableton, GA Contact Visiting Angels Today
Visiting Angels of Mableton Provides Compassionate Senior Care Aides
Visiting Angels Mableton, GA
The more your parents age, the more things start to change. At some point, they may not be able to remain together in their home, because they are no longer independent and require assistance with daily tasks. But Visiting Angels Mableton, GA can help – sending a qualified senior care aide to provide in-home elder care services. Thanks to our unique senior care programs, our trained, experienced caregivers offer compassionate, caring assistance for adults and seniors in Mableton, GA. Do you have a loved one who needs in-home help? If so, call us today and find out more about our professional home care services.
Providing A Caring Senior Care Aide
Visiting Angels Mableton, GA gives clients exactly what they need, when they need it most: a caring senior care aide. Be it round-the-clock assistance, help for a few hours each week, or occasional support, our in-home health care services typically include personal care, hygiene and bathing assistance, transitioning home care, Alzheimer's care, respite care, and end of life care – all in the comfort of your own home. In Mableton, GA, we will work diligently with your family to ensure a personal care plan that meets the needs of your loved one.
Does your father need help with feeding and bathing in the evening? Will your mother require medication reminder calls and meal preparation assistance? Do you have a loved one that is lonely and would like some daily companionship? No matter the situation, we will be there to help in Mableton, GA.
Friendly, Compassionate Staff
All our friendly, compassionate senior care aides also offer life-enrichment activities, such as going for walks at the local park, sharing a favorite hobby, reminiscing over old family photos, playing cards or a favorite board game, or visiting a friend in the neighborhood. Rest assured, your loved one will benefit from these added activities with our unique Mableton, GA care programs.
Great Companionship, Safe Transport
A senior care aide can also accompany your beloved elder to a doctor's appointment at Mableton Urgent Care, for a bite to eat at the Bay Breeze restaurant, or enjoy a sunny day at Thompson Park Community Center. Visiting Angels Mableton, GA will go above and beyond to keep your senior engaged in the Mableton, GA area, as well as other local communities.
Do you have a loved one that needs in-home non-medical assistance? Call Visiting Angels today to find out how we can help you and your family.
Serving Douglasville, Lithia Springs, Smyrna, Mableton and Surrounding Areas
Visiting Angels
DOUGLASVILLE, GA
3400 Chapel Hill Rd #801
Douglasville, GA 30135
Phone: 678-383-1962
Fax: 678-324-7612