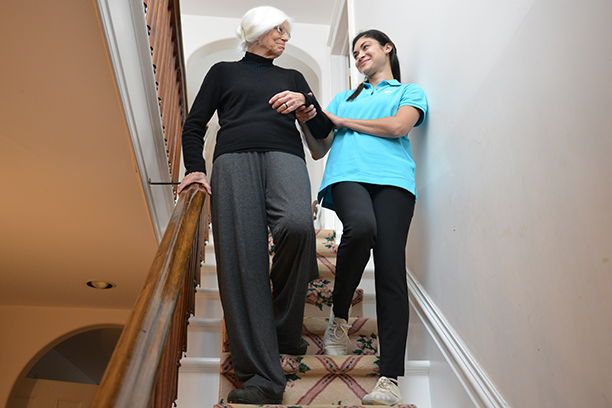 Caregiver Reviews
Visiting Angels Anderson offers top-notch care for families in Pendleton, Muncie, Anderson, and Greenfield. We have a reputation for exceeding expectations, especially for those who have had negative experiences with other home care agencies. Our attention to detail and high level of service often surprises our clients.
Hear what our clients themselves have to say:
"The people at the office were very nice and if you have any questions they were answering it really good so I was very pleased."
- Christine M.
---
"Visiting Angels truly live up to their name! We have used them with two different parents and they are always available; especially during unforeseen circumstances. Cannot say enough what an asset they have been to our family over the years!"
- Marcia S.
---
"I want to thank the staff at Visiting Angels for all the great things they do throughout the year. They have dedicated, caring staff that seem to pride themselves in getting things just right for the ones they are caring for. The extra help they offer and provide definitely helps the many stressful situations that can occur when caring for a loved one."
- Christine M.
---
"The staff has been as been great when ever I need anything I just call the office and they take care of it right of way. my personal staff person Cindy is great she always on time and works really hard when she here the senior food boxes really helps also Thank you so much for them"
- Debra S.
---
"Visiting Angels are truly amazing! They treat my mother who has Altzmers with love and care. Even on those horrible days they are rocks. We appreciate their efforts. Would give a 10-star rating if we could. Thanks Paula, Kay, Freedom, Brittany, Christie, and Makenah."
- Dan E.
If you or your loved one believe that you could benefit from our in-home care services, please call 765-703-4194 or contact us.
Serving Pendleton, Muncie, Anderson, Greenfield, McCordsville, Fortville, IN and Surrounding Communities
Visiting Angels
EAST CENTRAL, INDIANA
110 E Hartman Rd
Anderson, IN 46012
Phone: 765-778-3434
Fax: 765-356-4161