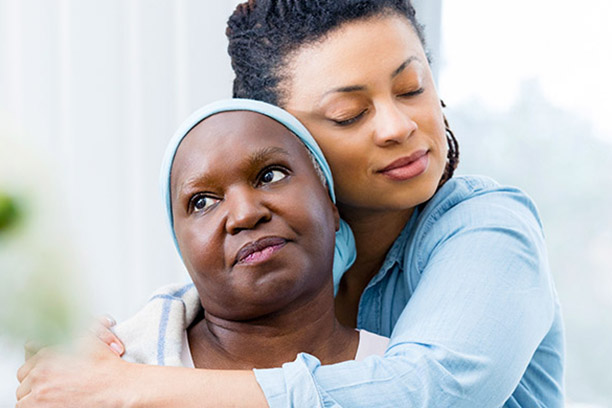 End of Life Care in Anderson, IN and the Surrounding Area
During the final stages of an individual's life, end-of-life care is available for emotional and physical support. With the assistance of a caregiver, you and your family can receive the support they need during this difficult stage of life. Just because death is natural, it doesn't mean that the process is easy. An increasing number of people have decided to spend their last days in their home, surrounded by their loved ones. With this increase, families must have access to home care services that offer compassionate and caring caregivers. Sadly, this aspect of home care is often overlooked or misunderstood during most caregiving training.
With Visiting Angels East Central Indiana, we train our staff to be the best support team for our end-of-life care families. We keep your terminally ill loved one comfortable while supporting the rest of the family. Our program does not offer hospice care, but our caregivers can work alongside your hired hospice team. Throughout this process, we are available to support you, your loved one, and whoever is on your team.
End of Life Care in Anderson, Pendleton, and the Surrounding Area
End-of-life care is a standard solution for those diagnosed with a limited life expectancy; these individuals most often require some form of care to manage pain and other symptoms. Typically, these responsibilities fall upon the family members and friends—if you find this to be your case, you may not have the physical or emotional strength to handle it all on your own. Give Visiting Angels East Central Indiana a call.
We offer compassionate senior care services to support your ill loved one, your family, and your friends. Visiting Angels offers a dedicated level of support you need through our Life Care Navigation™ collection of senior care services. We have outlined our Practical Care Tips for End of Life program with information caregivers need to support and care for clients and families.
Within our guidelines, you will see that we use a client-focused approach to end-of-life care. We center our level of care based upon the comfort and well-being of the client. Caregivers provide in-home care services to help:
Minimize pain and other symptoms
Assist with personal tasks such as dressing, bathing, and daily hygiene
Alleviate feelings of loneliness, stress, and anxiety
While assisting your loved one, we are also putting aside time to give family and friends the respite and assistance they need. Caregivers can do tasks such as meal preparation, laundry, light housekeeping, shopping, and running errands. Our caregivers are the anchor that keeps your family grounded during this transitional period, offering emotional support or a helping hand as needed.
End of Life Care Options for Families in Greenfield, Muncie, and Nearby Cities
End-of-life care is overwhelming, so Visiting Angels is here to provide support. For more information on end-of-life care or to schedule a no-cost meeting with a Visiting Angels care director, call 765-778-3434.
Serving Pendleton, Muncie, Anderson, Greenfield, McCordsville, Fortville, IN and Surrounding Communities
Visiting Angels
EAST CENTRAL, INDIANA
110 E Hartman Rd
Anderson, IN 46012
Phone: 765-778-3434
Fax: 765-356-4161