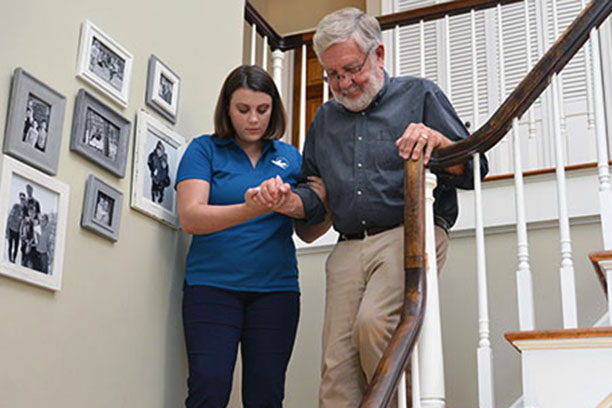 Attentive Home Care for Seniors in Anderson, IN
Fall Prevention Program for Seniors in Pendleton, Muncie, and Nearby Cities
Seniors are protected with our Safe and Steady fall attentive home care prevention program—this program prevents slips, falls, and trips in the home. When a fall is prevented, seniors are at less of a risk of hurting themselves with injuries that can lead to them losing their independence. Fall prevention is a key tool for aging in place.
Why Fall Prevention for Seniors is Important
Visiting Angels East Central Indiana is dedicated to providing seniors with attentive home care so they can age in their own home for as long as they desire; our caregivers keep them safe, happy, and comfortable. Fall prevention is an important part of our businesses structure.
It is more likely for a senior to take a hard fall than a younger adult—statistics show that 1 in 3 seniors experience a significant fall each year. There are a handful of risk factors that are linked to these falls, such as:
Decreased strength
Poor coordination
Limited mobility
Reduced eyesight
Hearing loss
Stiff or painful joints
Health complications
Cognitive disorders
Multiple medications
Serious injuries can be the result of a fall for seniors, in most cases, these injuries have the potential to cause life-altering/threatening side effects. Hip fractures are the most common result of a fall, with a recovery period of up to 12 months. This injury tends to require transitional care, and can leave significant complications. Most senior adults don't fully recover from this kind of fracture, leading to them losing their independence.
Thankfully, most major falls can be prevented with the right attentive home care. With our Safe and Steady program, your senior can reduce their risk of falling in the most common location for accidents—the home.
How to Prevent Falls at Home for Seniors
75% of significant falling accidents occur within the home. Thus, these falls can be prevented by taking precautions around the home. Our Safe and Steady Fall Prevention Resource Guide is available to help identify risks in the home and provide attentive home care. This guide also gives examples on how to reduce said risks.
This guide includes key information about:
Physical, social, and emotional health impacts of falls by the elderly
Environmental risk factors that increase the likelihood of falls at home
Precautions you can take to eliminate fall risks from the home
Design changes that can reduce seniors' risk of an at-home fall
Lifestyle changes that can further reduce fall risks for seniors
This guide lists simple modifications you or a loved one can make to lower the chances of falling at home. This guide also contains a 59-point home safety checklist.
Get Started with Visiting Angels East Central Indiana
Our dedication to fall prevention bleeds into our attentive home care services; with our senior care services, a caregiver can assist with fall prevention services. Companion care comes with a caregiver not only lending help with the day-to-day task, but they also maintaining a safe and tidy home that eliminates any falling risks. With personal care services, your loved one will receive help with tasks like as dressing, bathing, and mobility—this is possible with the fear of falling being eliminated.
Fall prevention is also an essential part of several other Visiting Angels programs, including our Alzheimer's care, dementia care, and Ready-Set-Go Home transitional care services.
Ready to get started with our Safe and Steady fall prevention program? Call 765-778-3434 to schedule a free consultation.
Download our free "Safe & Steady Fall Prevention Resource Guide" today.
Serving Pendleton, Muncie, Anderson, Greenfield, McCordsville, Fortville, IN and Surrounding Communities
Visiting Angels
EAST CENTRAL, INDIANA
110 E Hartman Rd
Anderson, IN 46012
Phone: 765-778-3434
Fax: 765-356-4161