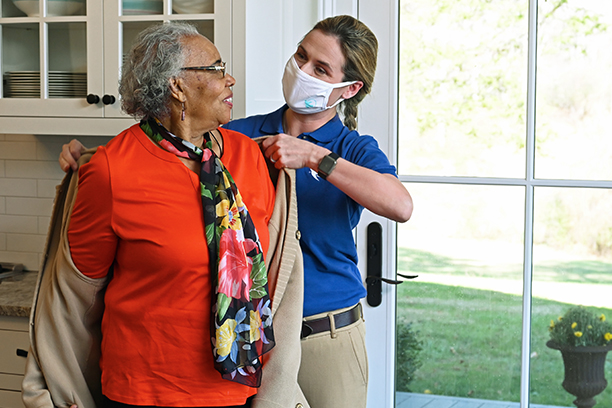 Support for Alzheimers in Anderson, IN and the Surrounding Area
The Alzheimer's Foundation of America states that as many as 5.1 million Americans may suffer from Alzheimer's Disease. Alzheimer's is a fatal brain disease that causes the slow decline of memory, thinking and reasoning skills. Being diagnosed with Alzheimer's can be frightening as well as devastating to an individual as well as a family member, however there are steps available to help make it through. Unfortunately, there is not a cure for Alzheimer's but there are treatments and support for Alzheimer's that can help slow the progression of dementia symptoms and improve the quality of life of those effected. If you are under the impression your loved one is showing symptoms of Alzheimer's it is imperative to be proactive by getting them to their physician. If a diagnosis is made you need to get a care team and plan in place as soon as possible. Visiting Angels is here to help with support for Alzheimer's.
First, know these 10 Warning Signs of Alzheimer's:
Memory loss that disrupts daily life

: not remembering recent events, names, where things go, and other new information.

Challenges in planning or solving problems:

Having trouble following a familiar recipe or keeping track of monthly bills, difficulty concentrating and taking much longer to do things than previously should be taken seriously.

Difficulty completing familiar tasks at home or at work.

Confusion about time and place:

People with Alzheimer's can lose track of dates, seasons and the passage of time.

Trouble understanding visual images and spatial relationships:

look fordifficulty reading, judging distance and determining color or contrast.

New problems with words in speaking or writing:

Signs include trouble finding the appropriate words, completing sentences, and following directions and conversations.

Misplacing things and losing the ability to retrace steps:

People with Alzheimer's may put things in unusual places, or accuse others of stealing.

Decreased or poor judgment when making decisions:

There may be issues with monetary scams or less attention to grooming and hygiene.

Withdrawal from work or social activities.

Changes in mood or personality

: Signs include increased depression, fearfulness, anxiety or suspicion, rapid and persistent mood swings, withdrawal and disinterest in usual activities.
If you noticed your loved one experiencing any of these symptoms, quickly have them screened for Alzheimer's by a medical professional. Alzheimer's is not a normal part of the aging process, so it is important to not mistaken it for forgetfulness. Individuals may experience one or more of these symptoms I different degrees, but regardless with this disease symptoms gradually increase while becoming more persistent.
If your loved one is diagnosed with Alzheimer's by a professional, it is best to be more proactive in decision making regarding care and support for Alzheimer's. Here are a few basic steps to help if you or someone you love is diagnosed with Alzheimer's:
Educate yourself about the disease.

The more you know, the more you can be prepared. The Alzheimer's Foundation of America and the Alzheimer's Association are two great resources for support for Alzheimer's.

Take care of financial, legal and long-term care planning issues.

Discuss wishes related to future care and end-of-life issues.

Employ cognitive stimulation.

Listening to music, word puzzles and memory games can help and can provide a positive experience for the patient and caregivers.

Arrange respite and/or regular professional care.

Even if you are willing and able to be a primary caregiver for an Alzheimer's patient, you will need help, if only to take a short break. Plus, it helps to introduce a professional caregiver while a person is still in the early stages of Alzheimer's, because once the disease progresses it can be more difficult and upsetting to change routines. When looking to hire home care help, try to find a person who has Dementia Care Professionals of America training or experience with dementia care clients. Visiting Angels East Central Indiana, for example, is one local agency that provides this training to its staff.

Build a support system.

Being a caregiver for someone with Alzheimer's can be stressful and overwhelming. Find people to talk to, reach out for help, and always make time to maintain your own physical and mental health. Many local hospitals and departments of aging offer free support for Alzheimer's groups, along with sites like the National Family Caregivers Association and Caring.com.
If you or your loved one has been diagnosed with Alzheimer's or a related dementia, know that you are not alone. For more information on support for Alzheimer's or to explore care options, call Visiting Angels East Central Indiana at 765-703-4194.
Serving Pendleton, Muncie, Anderson, Greenfield, McCordsville, Fortville, IN and Surrounding Communities
Visiting Angels
EAST CENTRAL, INDIANA
110 E Hartman Rd
Anderson, IN 46012
Phone: 765-703-4194
Fax: 765-778-6969