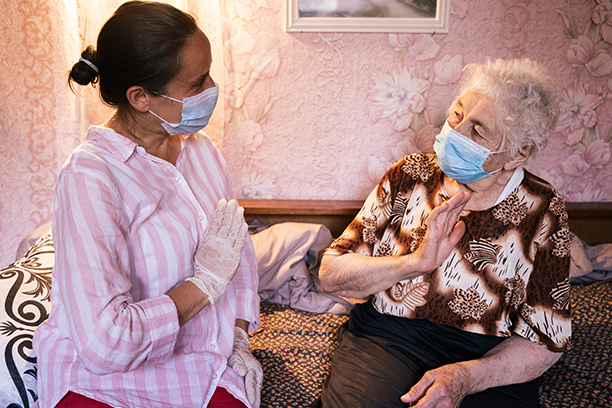 Trusted & Compassionate Living Assistance in Idaho Falls
At Visiting Angels Eastern Idaho, Character Counts!
If you know your loved one could benefit from the support of a professional living assistance provider in Idaho Falls, finding someone you trust is the next step. The team at our local care agency realizes this is often a decision that isn't easy for families to make. Because you'll only rest when you know your loved one is in safe hands, choosing a trustworthy care provider can make a difference to your own quality of life as well as that of your loved one.
Visiting Angels® Eastern Idaho is ready to connect you with professional care providers from the local area whose personal integrity has been carefully vetted through our meticulous hiring system. You can have confidence in the quality of your loved one's care knowing each member of our team works to prioritize the comfort and well-being of the seniors they care for.
Whether your loved one needs support with the challenges of Alzheimer's disease, a helping hand with personal care, or a compassionate companion to spend time with, we'll ensure they are paired with a reliable and capable caregiver.
We Care About the Character of Our Living Assistance Providers in Idaho Falls
Our organization has set out to deliver high-quality care families in the local area can depend on. The standards we adhere to emphasize the importance of tending to clients' social and emotional needs in addition to other care requirements related to the challenges of aging. This vision has led us to be extremely selective about the caregivers we hire. It is only by maintaining a character-driven team that we can be absolutely sure the care we are providing is of the same quality we would want for our own loved ones.
Our focus on the importance of character extends to our procedures for recruiting caregiver candidates. We bring professionals onto our team who are empathetic, respectful, kind, and compassionate. Thanks to our experience in the industry and the work we've done with families across the local area, we know these qualities are absolutely essential for high-quality senior home care.
Each member of our team in the Idaho Falls area is uniquely suited to the task of caregiving. However, we understand that personality can play a major role in the relationship between a caregiver and care recipient. We therefore always carefully match seniors with living assistance providers by taking personalities and lifestyle preferences into consideration.
Call Visiting Angels Eastern Idaho for a free living assistance consultation in Idaho Falls, Ammon, Blackfoot, Chubbuck, Pocatello, Rexburg, Rigby, or a town in the vicinity today.
Serving Eastern Idaho Communities
Visiting Angels
OF EASTERN IDAHO
1970 E 17th St #201
Idaho Falls, ID 83404
Phone: 208-529-2734
Fax: 208-529-2833