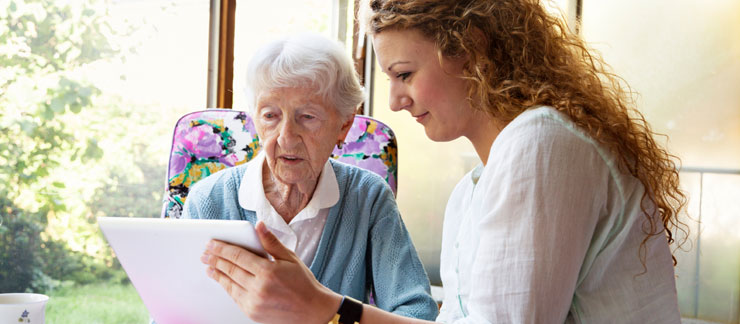 How Social Media Can Prevent Isolating Your Senior Loved Ones
A geriatric psychiatrist speaking at a conference on public health & aging said, "If I could write a prescription for companionship, what a difference that would make." In his practice, this psychiatrist visited homebound elders who were experiencing a range of health problems and declines — and many of these adverse health outcomes were precipitated by the compounding effects of loneliness, isolation and grief.
The negative health effects of isolation are fast becoming a public health crisis. Studies are now affirming the link between loneliness and an increased risk of early death and compromised health. Seniors tend to be more isolated because of health and mobility issues and because of grief and loss related to losing spouses, friends, and relatives.
But another growing trend among older adults that may help turn this tide of isolation? Social media usage. And caregivers of older adults can help facilitate these online connections. Here's how:
1. Set up a social media or caregiving share site account
Besides Facebook or Instagram, sites like CaringBridge or Lotsa Helping Hands offer caregivers and seniors opportunities to communicate changing care needs or a change in health status, and stay in touch with family and friends who want to visit and offer support. These sites also provide more privacy and protection of highly personal information and details (like what hospital Mom is at, or where Dad's next doctor's appointment will be) than a basic social media account.
Still, getting connected with others on social media is a great first step to fostering vital connections with new and old friends, and avoiding the black hole of isolation. Spend an afternoon with your older loved one creating an account, and make sure the privacy settings are at an appropriate level to avoid account hacks and other online safety concerns. If grandchildren live locally, include them in this session: the intergenerational benefits of digital connectivity can also translate in real-time.
2. Make FaceTime or Skype dates with friends and family
Speaking of grandchildren, smartphone apps and features like FaceTime, Google Hangouts and Skype make video chat technology accessible for users of all ages. Though nothing is better than having the grandkids visit in person, seeing their faces on Skype on a daily, weekly or monthly basis can undoubtedly alleviate feelings of loneliness and hopefully reduce the risks of isolation.
Scheduling these calls will provide a sense of structure for your loved one — and give them something to look forward to — but the disappointment of a "no-show" can be devastating. A schedule that allows for consistency with some flexibility on timing would be best: for example, your granddaughter in college will call the second Friday of every month (and have your daughter set a calendar reminder in her phone), and your best friend from high school will call every Monday afternoon.
3. Encourage online support group participation
Over 1 billion social media users participate in groups on Facebook, per a USA Today article, and their topics run the gamut from online yard sales to disease-specific support and resources. Facebook groups, particularly closed, private ones, are a great way to connect online but still limit your exposure.
Groups can also be more tailored to a person's interest and social connectivity needs (i.e., your mom might be more interested in talking to people who have the same diagnosis than finding old boyfriends from her alma mater).
Many support groups could benefit both caregivers and older adults, offering connections to information, insights, and a word of encouragement around the clock — and all without ever leaving your home.
4. Monitor usage for safe browsing
Do this carefully and with sensitivity, because you don't want to parent your loved one or minimize an older adult's sense of independence and autonomy; however, the risks of identity theft are significant, and even among "friends," the tendency to share information that isn't theirs can have devastating consequences.
Check in with your older loved one on a regular basis. By asking questions like "how many new friends have you added on Facebook this week?" you may be able to find out if your parent or loved one is accepting requests from people they don't know. You can also ask things like, "what new features have you tried?" to gauge their usage habits (i.e., whether they're searching for old friends, shopping online or just enjoying a travel page with beautiful photos from around the world).
5. Get out in real-time
Social media should never be a replacement for a lunch date with a dear friend, a few hours of volunteering at church, or a hair appointment at a favorite salon. Online social networking can also serve as a way to keep in touch in between lunch dates and hair appointments, particularly for those who have mobility challenges and can't get out and about as often.
Helping an older relative make safe connections online can open a whole new world of friendship and support, reduce the risks of isolation and foster improved health and wellbeing. But the work of making those connections — both online and in person — doesn't have to fall solely on your shoulders. Finding the right home care provider to partner with you can make a big difference, and the benefits are twofold: while helping your older loved one reach out, a home care companion can also offer a vital social connection.
Learn more about the importance of ensuring your senior loved one isn't isolated by clicking here.