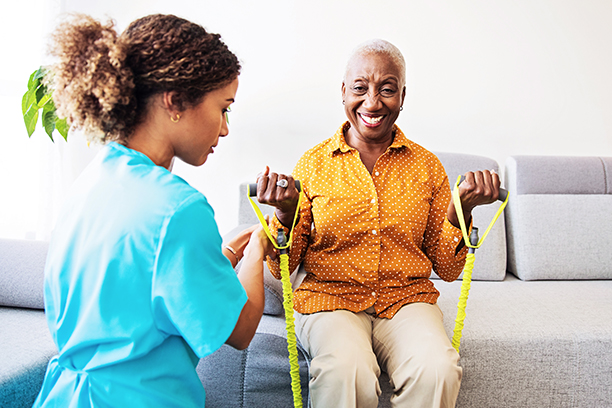 Companion Care in Harrisonburg, VA and the surrounding area
Companion care for seniors provides assistance older adults need to live safely and comfortably at home. This type of home care covers a range of basic tasks and activities that many seniors find difficult to perform on their own. In other situations, these obstacles can put seniors at risk of losing their independence. But with companion care, seniors can maintain their routines and continue to age in place.
At Visiting Angels®, companion caregiving is one of our most popular services, covering a broad range of caregiving duties. This makes it a great choice for seniors who need a bit of help to remain at home, but who don't require advanced caregiving.
What Is Companion Care?
Companion care is a type of in-home care service that provides essential assistance to the elderly and disabled adults.
Care will typically include a number of ways to make daily living easier and safer for the care recipient. For example, a caregiver might perform errands, such as grocery shopping or picking up medications, on behalf of a senior. At other times, caregivers will plan and prepare regular meals, perform light housekeeping duties, and offer medication reminders.
This type of elder care is also designed to improve quality of life in other ways. Caregivers act as partners for favorite hobbies and activities, accompany clients to appointments and social outings, and engage in friendly conversation with clients.
These activities can be a lifeline for socially isolated seniors. Social isolation has shown to dramatically increase the risk of health complications and mortality in seniors. Companion caregiving provides isolated seniors with social interaction and regular companionship, ending the cycle of senior isolation.
Companion Caregiving vs. Personal Caregiving
When choosing elder care services for your loved one, you may need to choose between companion care and personal care. Because of this, it's helpful to know the difference between the two services.
With a home care companion, duties typically include activities such as doing laundry, making meals, and assisting with errands. However, this type of care does not include physical assistance with activities like dressing, bathing, or toileting.
Personal care covers the basic care duties of companion caregiving, while also providing physical assistance to clients. Personal care services can also include non-medical assistance for chronic health conditions, like diabetes or Parkinson's.
Most older adults who receive senior care can age in place comfortably with companion caregiving. However, seniors who require advanced care or physical assistance may need personal care to live at home safely.
Elderly Companion Care - Get Started!
Your local Visiting Angels office makes it easy to get started with home care.
When you contact your local office, we will schedule a free consultation with you and your loved one. Based on this consultation, we will develop a custom senior companion care plan and schedule. This care plan will be tailored according to your loved one's unique care needs and preferences.
Once we've developed your loved one's care plan, we will match them with a companion caregiver. Our Select Your Caregiver® program ensures the right match for every client, allowing you to find the perfect caregiver for your loved one.
Ready to get started with companion care?
Find your nearest Visiting Angels' home care agency today or CONTACT US to learn more about our services!


Serving Harrisonburg and Rockingham, Shenandoah & Page Counties
Visiting Angels
HARRISONBURG, VA
370 Neff Ave #R
Harrisonburg, VA 22801
Phone: 540-217-2441
HCO-212488