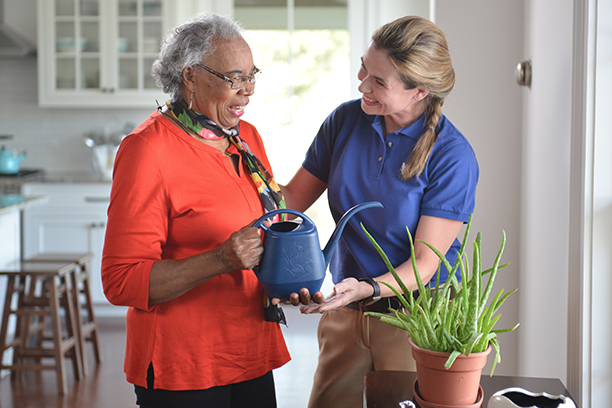 Why Visiting Angels Harrisonburg, VA and Surrounding Areas
Find Your Senior Home Care at Visiting Angels Harrisonburg, VA
At Visiting Angels®, we know there's truly no place like home. As one of America's most trusted and respected at-home care providers, our mission is to help your loved ones remain where they feel happiest, safest, and most comfortable. Rather than moving your loved one to an assisted living facility, we provide compassionate care at home, helping your loved one age in place.
Visiting Angels started more than 20 years ago as a small, locally-focused agency, providing care in home settings. Today, our network includes hundreds of agencies, and we proudly remain a local brand. Each Visiting Angels office is independently owned and operated by an individual with deep roots in the local community. This is what allows us to personalize our services for every client and develop close relationships with families.
We Tailor Home Care to Your Needs
When designing your loved one's at-home care plan, we will personalize our services to your loved one's needs. Rather than cookie-cutter care, we will provide a care plan to account for your loved one's health concerns, daily habits, living situations, and personal preferences. For seniors with advanced care needs, we offer a collection of specialized services called Life Care Navigation™. Over time, as your loved one's care needs evolve, we will adapt their care plan to match.
We Work on Your Schedule
Our caregivers are prepared to plan care visits around your loved one's routine or your personal schedule. We know how important it is for individuals to maintain their daily habits and rituals. We also know care often needs to be scheduled around the routines of family caregivers. Our flexible care planning approach makes scheduling visits as needed easy. Scheduling options include part-time and full-time care, weekend and overnight visits, 24/7 care, and respite care.
We Make At-Home Care Stress-Free
We know that getting started with at-home care can be difficult and confusing. That's why we go the extra mile to make this process easy and stress-free for families. During the care planning process, we're right there with you, helping guide you each step of the way. We make it easy to find answers to any questions you might have. We also help address any concerns about at-home care, whether those concerns are coming from the client or their family.
We Provide Compassionate Caregivers
Great care starts with dedicated caregivers. With Visiting Angels, you'll know your loved one is in good hands. Each local agency is staffed by a team of compassionate, committed, and knowledgeable care providers. We work closely with families to find the perfect caregiver for every client. To do this, we assess each caregiver's skills and availability, as well as their personality and their approach to at-home care. This allows our caregivers to build close relationships with our clients. In many cases, they become like other members of the family.
Visiting Angels of Harrisonburg, VA is Here for You
By choosing Visiting Angels, your loved one will receive the care they need and deserve. Meanwhile, you'll enjoy the peace of mind that comes with a reliable home care agency. We go above and beyond to make each day better for seniors and their families. We're here for you whenever you need a helping hand.
Get Started with Visiting Angels Home Care
Contact your local Visiting Angels office to get started with home care. Our care directors will make sure the process is as stress-free as possible.
When you contact your local office, we'll offer to schedule a free consultation. During this consultation, we'll learn more about your loved one's care needs and living situation. We'll also answer any questions or address your care concerns.
By the end of the consultation, we'll have the framework in place for a personalized care plan. This way, you'll have an overview of what care will look like before making your decision. Following this, we can match your loved one with a qualified caregiver through our Select Your Caregiver® program.
If you're interested in learning more about our home care services, reach out to our main office in Harrisonburg, VA!
Serving Harrisonburg and Rockingham, Shenandoah & Page Counties
Visiting Angels
HARRISONBURG, VA
370 Neff Ave #R
Harrisonburg, VA 22801
Phone: 540-217-2441
HCO-212488