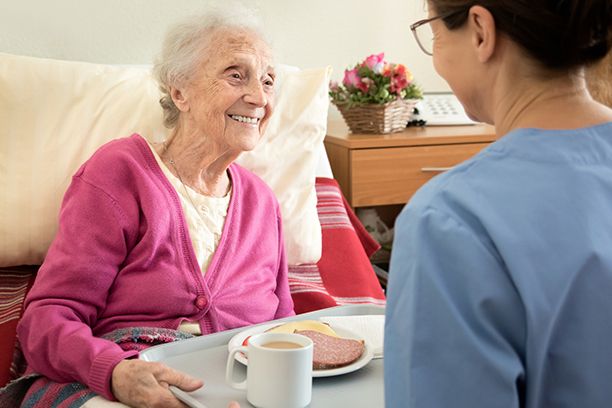 Personal Care in Harrisonburg, VA
Personal home care—or private duty care—makes it possible for older adults to age in place while living with physical disabilities or a chronic health condition. This type of home care includes help with personal activities, such as dressing, bathing, and mobility. Seniors who receive private or personal home care can maintain their independence and continue living at home, rather than moving to a care facility.
At Visiting Angels®, we know how important the comfort of home can be for seniors. If your loved one is worried about losing their independence or finds themselves struggling with everyday tasks, Visiting Angels can help your loved receive the care they need to age in place on their own terms.
What Is Personal Care?
Personal care is one of the most common types of in-home care. Generally, this type of care is meant for individuals with chronic health conditions, physical disabilities, or difficulties with strength, coordination, and mobility. Care will typically include a combination of tasks and activities, which are designed to ensure the individual's safety, comfort, and well-being.
One of the most important aspects of personal home care (or private care) is assistance with Activities of Daily Living, also known as ADLs. These activities include things like dressing, personal grooming, bathing, and toileting. Personal caregivers have the skills and expertise required to provide assistance with these tasks, as well as similar tasks such as mobility and transfer assistance.
Personal caregivers can offer a helping hand with a number of other tasks, including assistance with errands, meal preparation, light housekeeping, medication reminders, and other routine activities. Our caregivers also provide individuals with companionship and conversation, helping reduce the risks of senior isolation.
Personal Caregiving vs. Companion Caregiving
When hiring in-home care for a loved one, it can be hard to distinguish between different types of caregiving. In particular, many families are unsure of the distinction between personal care and companion care, which are two of the most common types of in-home care.
The core distinction between these two types of care is help with Activities of Daily Living, as well as any other caregiving tasks that direct physical assistance. Personal caregivers have specific skills and abilities that allow them to provide direct physical assistance, while also performing other caregiving duties.
Companion caregivers, on the other hand, can assist with activities such as errands or light housekeeping. However, they are unable to assist with Activities of Daily Living or perform other tasks that involve physical assistance.
Because of this distinction, we recommend personal care services if your loved one requires direct physical assistance. We may also recommend this type of care if your loved one has a chronic health condition, such as diabetes or dementia. If your loved one does not require this level of assistance, we may recommend companion care services instead.
Get Started with Private Care Services
With Visiting Angels, it's easy to get started with private care services for your loved one.
We'll start by scheduling a free consultation that will give you the chance to learn more about our approach to private care and address any concerns you might have. At the same time, it gives us the chance to learn about your loved one's situation in detail. This will allow us to start developing a personalized care plan and schedule for your loved one.
Following this consultation, we will develop your loved one's care plan in more detail. At the same time, we will match your loved one with a caregiver whose skills and abilities make them ideally suited to your loved one's care needs. Our Select Your Caregiver® program will make sure your loved one is matched with the right caregiver.
Ready to get started with personal care?
Find your nearest Visiting Angels' home care agency today or CONTACT US to learn more about our services!
Serving Harrisonburg and Rockingham, Shenandoah & Page Counties
Visiting Angels
HARRISONBURG, VA
370 Neff Ave #R
Harrisonburg, VA 22801
Phone: 540-217-2441
HCO-212488