Home Care in Fredericksburg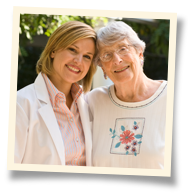 If you have a grandparent or loved one who is having trouble around the home, they're not alone. Every year, seniors opt to age at home, even as age-related challenges may increase. If you have a loved one in Fredericksburg that is struggling, Visiting Angels® Boerne can help. With home care services, we help seniors live independently at home with regular support from a trusted professional.
We know the need for senior care may surface with little warning. Our agency can guide your family through care decisions, help you review your options, and offer recommendations based on your loved one's condition. We simplify the set-up process while making sure no aspect of care is ignored, so your loved one has the level of support that's right for them.
Personalized Home Care For Fredericksburg Area Seniors
With Visiting Angels Boerne, you'll never get a generic approach to home care. For seniors in Fredericksburg, we always take the time to build a personalized care plan that's based on each client's specific needs and preferences. Every aspect of care can be customized to your loved one's liking, from frequency and duration of caregiver visits to the level of assistance that's being offered.
It means we can also take a nimble approach when it comes to changing up care plans. We know the type of care that's needed may evolve over time, and can easily re-calibrate your loved one's existing plan to reflect that. Our trusted caregivers can also monitor for any changes in cognition or physical condition. That way, we can always be attentive to the changing needs of our clients.
Visiting Angels Boerne Provides Companionship and Compassion
For plenty of seniors, aging comes with new emotional and psychological challenges as well. Those with memory disorders may be faced with increased instances of confusion, anxiety, or stress, while others may simply suffer from a sense of isolation. These challenges can have an effect on the overall health of those we care about.
With home care services from Visiting Angels Boerne, we keep that in mind. Our caregivers can support seniors who are facing these difficulties throughout the areas of:
Fredericksburg
Boerne
Kerrville
San Antonio
Fair Oaks Ranch
And the region

Your loved one's caregiver can be there to alleviate moments of distress or even loneliness, with friendly and compassionate support on a frequent basis. We help seniors live with joy and comfort in their everyday lives.
Ask about your options for home care in Fredericksburg. Contact Visiting Angels Boerne to find out more information today.