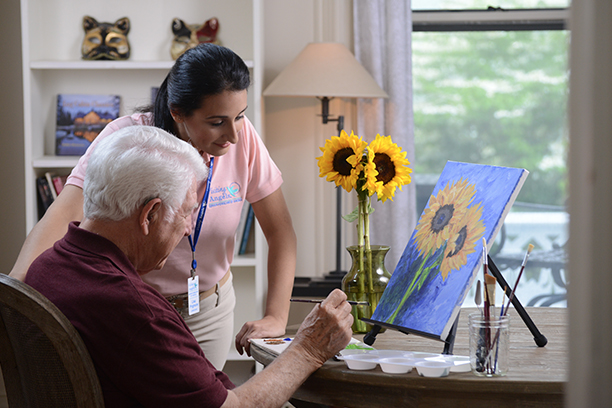 Companion Care Services in Jackson, TN and the Surrounding Area
Visiting Angels Provides Companion Care Services to Seniors in Lexington, Humboldt, and Nearby Cities
Are you searching for assistance for a loved one? Companion care services may be the right choice for you their living situation. Visiting Angels of Jackson, TN has personalized in home care services that are specifically for seniors who are needing support in their daily routines and activities to continue living at home. Home care covers a wide range of services that are all customizable to fit each clients preference and needs. With our services, seniors have shown to be able to maintain their independence while having access to help for the more difficult tasks during their day.
Our most popular service for elder adults is companion care; we serve the elder adults of Jackson, Bolivar, Brownsville, Henderson, Humboldt, Lexington, Whiteville, and the surrounding areas. This option is best for those who are not in need of advanced care; with companion care our clients can go about their normal routine with confidence because of our caregivers support.
What is Companion Care?
Companion care makes living at home easier for aging adults, as well as safer. Caregivers can assist in multiple ways, such as going grocery shopping or running to the pharmacy to pick up medications. Companion care services also provides help with housekeeping and homemaking, from doing light chores to preparing healthy meals. Our services give seniors the chance to live comfortably in a tidy home with the assistance they need to continue maintain their well-being.
We train our caregivers to go above and beyond the basic duties of companion care services, for example if your loved one enjoys going on walks or playing card games, their caregiver can engage in these activities alongside them. Being there as a caregiver and a companion helps provide seniors with the social interaction, they need to help avoid senior isolation.
Understanding How Companion Care Differs from Personal Care
When creating a home care plan for a senior loved one, you will need to decide between different types of care. To better understand which care you should choose from, you may want to learn the differences between companion care from personal care.
Companion care from a Visiting Angels of Jackson, TN provider offers seniors assistance with activities like changing linens, running errands, and socializing. With this care service your senior will not have direct forms of physical support like help with bathing or getting dressed. These kinds of physical services fall under personal care.
Call to Schedule a Free Consultation
Get started with companion care services today by calling 731-300-5141 to book a free consultation!
Serving Madison, Chester, Henderson, Hardeman, and Haywood Counties
Visiting Angels
JACKSON, TN
1296 N Highland Ave #14
Jackson, TN 38301
Phone: 731-300-5141
Fax: 731-300-5032