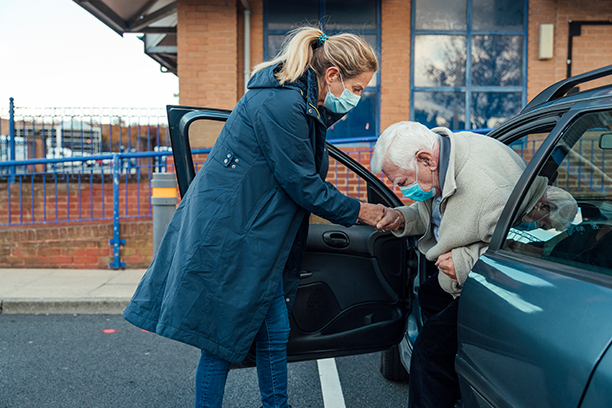 Fall Prevention Through Home Care Assistance for Seniors in Jonesboro, GA and Surrounding Areas
With quality home care assistance from Visiting Angels Jonesboro, our caregivers help seniors in Jonesboro, Riverdale, Ellenwood, Morrow. College Park, South Fulton, Cliftondale and surrounding areas in Georgia avoid fall-related risks and stay safe in their own home
Did you know that one of the main reasons that seniors end up in the emergency room and consequently losing their independence is the fact that they have taken a fall? Although many of us don't think twice about the falls we take, for older adults, taking one can not only have an incredibly negative impact on their life in the physical sense, it can also completely impact their mood for the worse. That is why at Visiting Angels Jonesboro, our home care assistance includes fall prevention solutions to help seniors in Jonesboro, Ellenwood, Morrow, College Park, South Fulton, Cliftondale and surrounding towns stay safe. Your loved one is never really safe unless steps are taken to make sure they are not at risk of falling.
Once a senior has taken a fall, their social life is sure to become affected. If an older adult experiences the fall as a traumatic event, as many do, they will start retreating into their home and become afraid to venture out. This will of course impact the way that they interact with others, and can leave them opting out of many important social invitations, even missing important family events like birthdays and Christmas. As you can imagine, doing so can cause many seniors to become anxious, lonely, isolated, sad, and therefore, depressed.
The Life-Changing Impact of Falls
Here's how even one instance of a fall can affect seniors:
Each year, as many as a third of all seniors end up falling. Sadly, a fifth end up sustaining serious injuries like broken hips, fractures and concussions;
If your loved one ends up taking a fall, they are likely to do so again;
Nearly a million people are hospitalized as a direct result of a fall annually;
It could take your loved one as long as a year to recover.
How Home Care Assistance from Visiting Angels Jonesboro Helps Prevent Falls
The fact is that falls never happen out of the blue. They can be caused by many different factors, including a current physical condition, a medical problem, home environment, arthritis, poor eyesight, side effects from medications and dehydration. In other words, every senior is at risk of taking a fall, but there is a lot we can do about that.
The first step is figuring out what your loved one's risks are. Once we identify possible fall-related risks, our caregivers will work on minimizing these risks to make sure your loved one stays safe.
This can include:
Reminding your loved one to drink fluids and take medication when needed to avoid issues with dehydration and medication withdrawal. We can also monitor your loved one after taking their medication in case they show any side effects.
Light housekeeping in order to remove clutter and anything your loved one could trip over
Helping your loved one get from room to room safely
And so much more
With fall prevention solutions from Visiting Angels Jonesboro, steps can be taken to make sure your loved one's risk of taking a fall is reduced.
To find out more about home care assistance in Jonesboro, GA and how we can help your loved one, please give us a call at 678-883-7217 today!
Serving Jonesboro, College Park, South Fulton and surrounding communities of Cliftondale, Heritage Park, and Red Oak, GA
Visiting Angels Jonesboro, GA
238 Stockbridge Rd #206
Jonesboro, GA 30236
Phone: 678-883-7217
Download Your Free Safe & Steady Fall Prevention Resource Guide today.