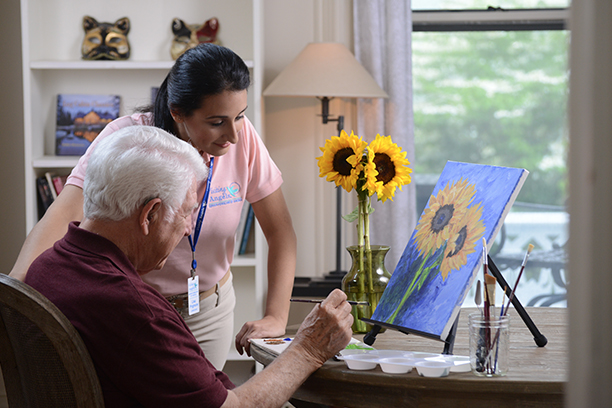 Frequently Asked Questions About Senior Care Services in Jonesboro, GA and Surrounding Areas
At Visiting Angels Jonesboro, we get a lot of questions about senior care services available to families in Jonesboro, Ellenwood, Riverdale, Morrow, College Park, South Fulton, Cliftondale and surrounding areas in Georgia, so we can help you find the answers to some common questions about in-home care for seniors
Q: What senior care services do you provide in Jonesboro and surrounding areas?
At Visiting Angels Jonesboro, we provide essential personal in-home care services to elderly adults in Jonesboro, GA and surrounding communities, including Ellenwood, Riverdale, College Park, South Fulton, Cliftondale, Red Oak and Morrow. We offer personalized care plans that enable clients to maintain their independent lifestyle and remain living safely at home. In the majority of cases, our care plans include assistance with light housekeeping, meal preparation, medication reminders, personal hygiene and running errands, as well as mobility assistance and fall prevention.
Q: What does the term "aging in place" mean?
In the caregiving industry, we use the term aging in place to describe one's ability to remain living in their home or in the home of a family member throughout their golden years. Aging in place is the opposite of institutional residential care such as a nursing home. Sometimes, aging in place may also refer to the ability to age in an assisted living facility with additional help.
Q: Do you provide senior care services in assisted living facilities?
We do. When clients discover that the assistance provided in an assisted living facility is inadequate for them to remain independent, Visiting Angels can step in. Our trained caregivers can provide sufficient levels of care within an assisted living facility as some states allow hired caregivers in nursing homes or assisted living facilities.
Q: How quickly can home care services be provided/started?
Our services are usually provided within a 48-hour timeframe. However, when there are any pressing issues regarding the client, our services are often provided the same day.
Q: Can I change the schedule if I have appointments to keep?
We can accommodate any schedule changes with as little as one week notice. If you choose to work with Visiting Angels Jonesboro, your needs and your requirements will always come first. We will make any necessary revisions to your loved one's care plan whenever needed.
Q: How do I start in-home senior care services with Visiting Angels Jonesboro?
Getting started with Visiting Angels Jonesboro is pretty easy. You can contact our Jonesboro, GA by calling 678-883-7217 or filling out our contact form to speak to one of our care coordinators. Once you contact us, we can schedule a free, no-obligation consultation in your loved one's home. The purpose of this in-home visit is to assess your mom or dad's care needs and propose a caregiver who possesses the skills, personality and availability to assist your family. After you meet the caregiver and approve the match, they will begin working for you.
Serving Jonesboro, College Park, South Fulton and surrounding communities of Cliftondale, Heritage Park, and Red Oak, GA
Visiting Angels Jonesboro, GA
238 Stockbridge Rd #206
Jonesboro, GA 30236
Phone: 678-883-7217