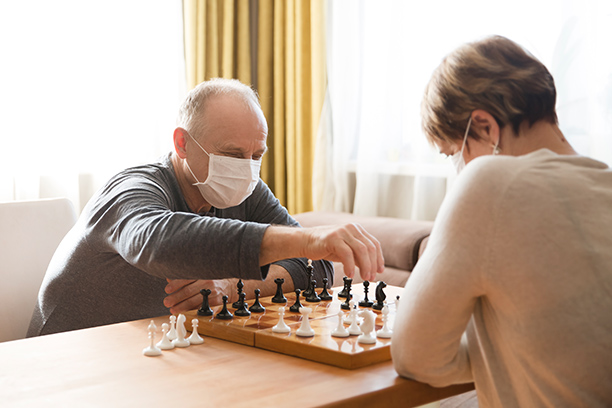 Expert Parkinson's Care and Memory Care Services for Seniors in Jonesboro, GA and Surrounding Areas
Our in-home memory care services provide personalized support for seniors living with Parkinson's disease in Jonesboro, Morrow, Ellenwood, Riverdale, South Fulton, College Park and surrounding communities in Georgia
Home care providers from Visiting Angels Jonesboro provide individualized Parkinson's care solutions, designed to help senior loved ones in Jonesboro and surrounding communities to properly manage their symptoms and continue living independently at home.
Parkinson's disease is a progressive disorder of the central nervous system associated with tremors and impaired movement. While symptoms of Parkinson's are usually mild during the onset and the early stages, as the condition progresses, movement becomes so severely affected that those with the illness often require high levels of care as they are incapacitated to perform even basic, everyday tasks without difficulty.
If you act as a family caregiver for a senior loved one diagnosed with this disorder, you might want to consider working with experts from Visiting Angels Jonesboro.
With the help of our dedicated caregivers, your loved one can lead as happy and fulfilling a lifestyle as possible, managing their medical condition to the best of their abilities. We will create a personalized care plan based on your loved one's symptoms and stage of progression and match your family with a professional memory care provider whose skills, qualifications and personality make them an ideal fit for your parent.
Recognizing the Symptoms of Parkinson's
The symptoms of Parkinson's can be very subtle, almost unnoticeable at first, but as the condition advances, the patient's mobility is gradually affected. Some of the most common symptoms of Parkinson's disease include:
Recurring tremors
Slowed movement, often accompanied with mobility and balance issues
Depression
Insomnia and other sleeping disorders
To make matters worse, those in the advanced stages of Parkinson's are at a high risk of developing dementia too.
How Our Memory Care Services Help Seniors in Jonesboro and Surrounding Areas
As Parkinson's is known for impairing mobility and balance, your mom or dad will be at an increased risk of falling or injuring themselves. In addition, many simple daily tasks will become fairly difficult, if not impossible, to perform. For this reason, your loved one will need additional assistance from trained home care providers from Visiting Angels Jonesboro in order to remain safely at home.
At Visiting Angels Jonesboro, our caregivers are extensively trained to cater to those with conditions such as Parkinson's and Alzheimer's, as well as for those with other memory care needs. We can:
Perform light homemaking tasks
Assist with mobility and personal hygiene, including toileting and incontinence
Prepare healthy meals and assist with feeding
Provide transferring and positioning
Support physician-recommended routines and regimens to ensure your parent receives the level of care they need
Provide incidental transportation to therapies and doctor's appointments
And so much more
Call our Jonesboro, GA office today at 678-883-7217 or fill out our contact form to learn more about how our personalized memory care services can help your mom or dad with Parkinson's to continue living independently at home throughout their golden years despite their debilitating condition.
Serving Jonesboro, College Park, South Fulton and surrounding communities of Cliftondale, Heritage Park, and Red Oak, GA
Visiting Angels Jonesboro, GA
238 Stockbridge Rd #206
Jonesboro, GA 30236
Phone: 678-883-7217