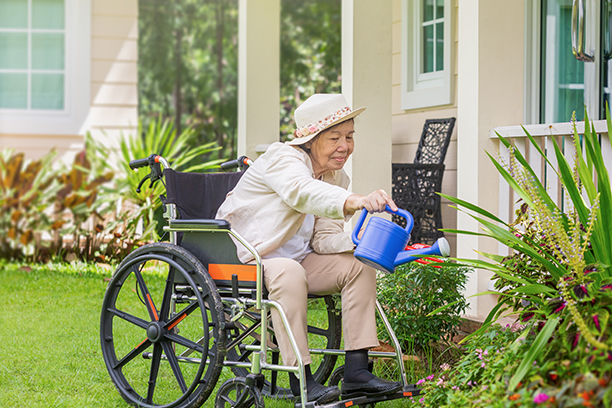 Kansas City's Most Trusted Alzheimer's Care
A diagnosis of Alzheimer's or dementia can send a family into turmoil. Everything becomes a delicate balancing act. Ensuring that your elderly loved one makes it to their appointments might mean you miss meetings, recitals or appointments of your own. Their safety becomes your primary concern, while other priorities are forced to take a backseat. The Alzheimer's care professionals at Visiting Angels Kansas City understand and are here to help. Our professional Angel companions offer the kind of compassionate and experienced care that will relieve the pressure on you and your family and put your mind at ease while your loved one remains in the comfort and familiarity of their own home.
Skilled Alzheimer's Care with a Compassionate Touch
Our Angel companions have been hand-selected from the Kansas City area based on their community involvement and history of working with seniors. Those who go on to work with individuals with Alzheimer's and Dementia can also take part in specialized training, developed in partnership with the Alzheimer's Association of America. You can feel confident in knowing that your loved one's Angel companion has the tools they need to take the best care of your relative.
At Visiting Angels Kansas City, we understand that when it comes to caring for a precious relative, skill isn't all that matters. That's why we are proud to offer our Select Your Caregiver program that allows you to select a caregiver that is the right match for your family.
Alzheimer's Care on Your Schedule
Whether you are at work or at home, we know your elderly loved one is always on your mind. Visiting Angels Kansas City works hard to provide the kind of top-notch Alzheimer's care that puts your family at ease. We also make sure that we are available 24 hours a day, seven days a week, just in case anything comes up. If we notice any strange behavior in your relative, we'll notify you right away. If you ever need to get in touch with us, Visiting Angels Kansas City is just a phone call away. After hours concerns are no problem for us. We'll never leave you in the lurch. We'll return your call in 15 minutes or less.
Gain peace of mind by calling Visiting Angels Kansas City today to learn more about our Alzheimer's Care services.
Serving Kansas City, Johnson County, North Kansas City and Surrounding Communities
Visiting Angels
KANSAS CITY, KS
8680 W 96th St #200
Overland Park, KS 66212
Phone: 913-912-1260
Fax: 913-912-1261