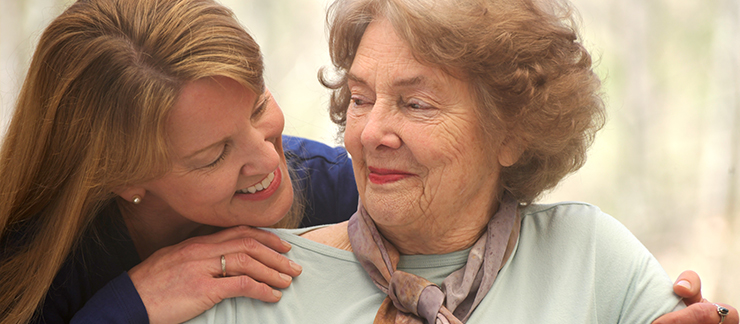 Live-in or 24-Hour Care Allowing Elderly Adults to "Age in Place" in Their Homes
Elderly care can be difficult to provide for your aging loved ones, especially when you work, live far away, and/or have children that require care and attention. As their needs and demands increase, you can't always offer the 24/7 care they require at home. You may try to schedule regular visits from caregivers and family members to attend to their needs. However, a decline in physical and/or cognitive functions or a change in a situation where one parent now lives alone may prompt you to consider round-the-clock care.
Moving your elderly parent to an assisted living facility or a retirement home is not your only option.
Live-in and 24-hour home care can ensure a caregiver is available to address any personal needs – and provide senior companion care - day and night in their own home. Companionship is known to improve senior's moods and stave off loneliness and isolation that can lead to depression. According to WebMD, one in three older adults lack companionship, with many feeling isolated.
Home Care for Elderly in Their Own Homes

Sometimes, assisted living care provided by you or a reputable
home care agency
is not enough as seniors age. Signs that indicate a switch to 24/7 care at home include:
Increased signs of bruising that indicate falls or trips
Wetting the bed or other "accidents" due to an inability to make it to the bathroom on their own
Greater reliance on assistive equipment
Wandering around and away from the home
Increased confusion due to advancing dementia
Feeling isolated or overwhelmed caring for themselves alone
Assistance to drink or eat
A recent move from rehabilitation or a hospital visit
Decreased agility and/or mobility due to a stroke or chronic condition
A move by family or friends who provided care
Most seniors want to continue living in their own homes for as long as possible. An AARP study reports that almost 90% of seniors want to stay in their own homes as they get older and 82% prefer to stay put when receiving daily assistance. Live-in or 24-hour elderly care can satisfy these preferences while providing you with the comfort of knowing that they are safe in the place where they want to live.
The Difference Between Live-in and 24-Hour Care
While live-in and 24-hour caregivers may seem redundant, terms of elderly care are different for each. Understanding the difference will help determine the best choice for a senior's specific circumstance.
LIVE-IN CARE
Live-in caregivers stay in the home day and night to perform duties outlined on the care plan. One caregiver could work during the week and another on the weekends. Live-in caregivers are provided an 8-hour break and sleeping bed to rest.
Pros: With just two scheduled caregivers, you and your loved one may form a stronger bond. In addition, the caregivers become more familiar with your senior to understand favorite routines and how to address special needs and moods. Familiarity is especially beneficial to the elderly diagnosed with dementia.
Cons: As the client does not receive direct supervision during the caregiver break, live-in care may not be sufficient for individuals who require care at all times of the day and night to ensure their safety and well-being.
24-HOUR HOME CARE
Two or more caregivers rotate shifts to ensure someone is always awake and available day and night to help the client when needed at any time.
Pros: A trained and alert caregiver is always awake to care and supervise your loved one. Rotations ensure caregivers are refreshed and ready to address different situations. Seniors who wander at night can benefit from someone who is alert to their movements.
Cons: While less consistency in caregivers, scheduled visits still prevent isolation experienced by many seniors. Costs are typically higher than live-in care.
What's the Best Elderly Care Choice?
Live-In Care for the elderly is appropriate when your loved one:
Sleeps through the night with minimal assistance
Does not require constant attention to prohibit wandering or other potentially dangerous activities

24-Hour Care is appropriate when your elderly loved one:

Wanders or poses a threat to themselves due to physical or mental limitations
Is frequently awake during the night or show symptoms of "sundowners syndrome" – when an individual becomes more active or agitated as evening falls
Live-in or 24-hour care can serve as a temporary solution to seniors just recovering from surgery or returning from rehab. It also can allow you or other family members to take a much-need break or go on vacation with the peace of mind that your aging loved one is safe and secure in the comfort of their own home.
While live-in and 24-hour in-home care is paid by the client, Medicaid can provide assistance in some situations depending on financial and physical needs as well as state residence. Medicare Waiver Programs provides support to the elderly with special needs. Veterans long-term care and other long-term care insurances may assist with payments.
Home care provides essential elder assistance on an hourly, overnight, 24-hour and respite care basis. Care plans include a variety of services that attend to personal care, hygiene, housekeeping, personal hygiene, meal preparation, transportation, medication reminders and more. Visiting Angels even offers certified palliative care programs, dementia care and Alzheimer's care.
---
Sources:
https://www.webmd.com/healthy-aging/news/20190304/survey-1-in-3-adults-feel-lonely
https://assets.aarp.org/rgcenter/ppi/liv-com/ib190.pdf
https://www.payingforseniorcare.com/medicaid-waivers/home-care.html
http://medicaidwaiver.org/state/delaware.html
https://www.visitingangels.com/kansascitynorth/articles/visiting-angels-assisted-living-services-for-elderly/295
---