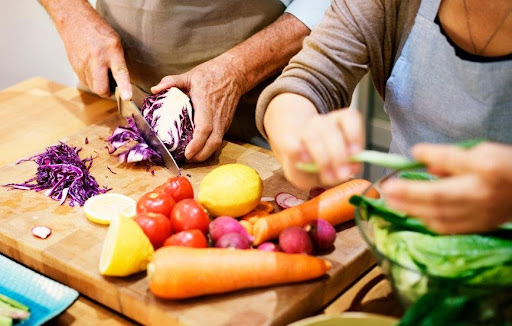 Eat With the Seasons: Healthy In-Season Foods to Eat This Month
When we think of winter eating, produce is not always the first thing that comes to mind. We celebrate the holidays with sweets and indulgent treats, but plenty of produce is still in peak season in the humid, subtropical North Carolina climate. Eating a balanced diet throughout the year can help aging loved ones maintain a healthy weight, feel energized and manage or lower the risk of chronic health conditions, like diabetes and heart disease. No balanced diet is complete without fruits and veggies!
Fruits
The U.S. Department of Health and Human Services recommends that adults over the age of 51 consume 1.5 to 2 cups of fruits each day. Luckily, apples are a staple in fall and winter cuisine, and they're plentiful during the winter months.
Apples are a great source of fiber, Vitamin C and several antioxidants. They are powerful in the fight against chronic disease and have even been linked to reduced cancer risk, especially lung cancer.
While apples are a great in-season choice, it is important to eat a variety of fruits. Check your local market for other fresh fruits in your area.
Root vegetables
Root vegetables are those that grow under the ground. The roots absorb water and nutrients to feed the rest of the plant, making them a nutrient powerhouse for our diet, according to Harvard Health. Though root vegetables are part of a balanced diet, they are high in calories and starchy carbohydrates, so a little goes a long way.
Beets are packed with essential vitamins and minerals and have been considered to have medicinal properties. Studies show that consuming beets can significantly lower blood pressure over only a few hours. This root vegetable is key in helping to manage and prevent heart disease, heart failure and stroke. Beets are a common vegetable praised by athletes for their energy-providing qualities and are an essential part of an aging adult's diet.
Carrots are fun to cook with, but they are equally tasty as a raw snack. These crunchy roots are full of fiber and energy-boosting carbohydrates, and they are a low-glycemic food that is especially beneficial to those with diabetes. Carrots are also rich in vitamin A, a key component in good vision and promoting healthy eyesight while aging.
Leafy greens
No southern cuisine is complete without a heaping side dish of greens. Greens are in season and thriving during the winter months, particularly cabbage, collard greens and kale. These leafy veggies are packed in nutrients, but they're often overlooked.
Cabbage and bok choy (Chinese white cabbage) are great sources of vitamins, iron and several antioxidants. Cabbage has anti-inflammatory properties and has been known to help manage chronic inflammation due to things like rheumatoid arthritis and inflammatory bowel disease.
Collard greens and kale are also nutrient-rich leafy plants, high in calcium and vitamin K. These two nutrients work together to promote bone health and prevent osteoporosis and bone fractures. Plus, collard greens contain choline, an important neurotransmitter that helps with mood, sleep, muscle movement, learning, and memory functions. These vegetables are beneficial to all, but even more important as we age.
Herbs
Herbs do more than just flavor our food. Studies have shown that garlic, onions, chives, leeks, mint, basil, oregano, sage and many other herbs are proven to reduce blood clots, control blood sugar and protect against cancer and tumors. Cloves, cinnamon, sage, oregano and thyme are particularly helpful in lowering cholesterol. Try to reach for fresh herbs whenever possible—they contain higher antioxidant levels than dried herbs and have much higher health benefits. These tasty additions will make for savory flavors and meals while providing a nutrient-packed diet.
Visiting Angels Lake Norman is pleased to provide senior care services to elderly and disabled adults throughout the Huntersville community and surrounding areas. Our caregivers will help aging loved ones stay on a routine, with diet and meal preparation management as a foundation for success. Our Select Your Caregiver® process will personally match your loved one with a compatible caregiver based on their needs and scheduling requirements so they are comfortable, encouraged and well cared for. Get in touch with us today to learn more at (704) 892-8886.