Choosing In Home Care for Lawton's Loved Ones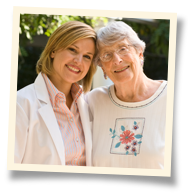 When a loved one in the Lawton, OK area needs assistance in order to live safely and comfortably, it's normal for families to feel overwhelmed and concerned. After all, a loved one's health, safety, and personal well-being will be in the hands of their in home care provider in Lawton this in mind, families will want to ensure they've found a reliable, compassionate, and supportive caregiver for their loved one.
While finding the right caregiver can be challenging, with a little research and organization, it is possible to match your loved one to a care agency able to provide the support they deserve. Below, Visiting Angels® Lawton has listed a few key steps to follow as you research different in home care options in Lawton, Cache, Elgin, Duncan, Fletcher, Geronimo, Marlow, and throughout the surrounding areas.
Researching In Home Care in Lawton
Key steps to follow as you search for in home care services for your loved one in the Lawton area include:
Make a List of Care Agencies. Research online, use suggestions from your loved one's physician and tips from local seniors' organizations to compile a list of potential in home care agencies in the Lawton area.
Ensure Each Agency is Reliable. Call or look online to find out which agencies on your list are bonded and insured and which have a good track record when it comes to caring for seniors in the local area.
Check Services Offered. Create a list of your loved one's social, emotional, and physical care needs, and narrow down your search to care agencies able to meet your loved one's full range of needs.
Learn About Care Providers. Find out how caregivers are interviewed and screened at each agency. Also ask about how caregivers are matched to clients and find out whether you will have any input in who is assigned to caring for your loved one.
Schedule a Consultation. If you think you've found the right in home care provider for your loved one in the Lawton, OK area, ask to book a care consultation in their home. During this consultation, you'll see how members of this agency interact with your loved one, and the agency will get a clear idea of their needs, preferences, and routines.
At Visiting Angels Lawton, we're dedicated to offering compassionate in home care that empowers the seniors in our community. Call us today to learn more about our services and to book a free care consultation.