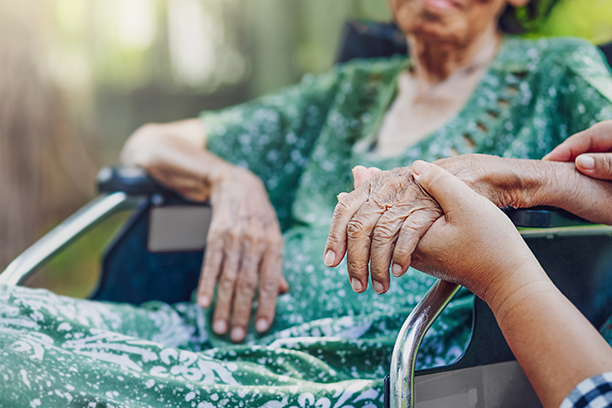 Transitional Care in Lufkin Helps Avoid Hospital Readmissions
Ready-Set-Go Home with Transitional Care
If you or a loved one have ever been in the hospital, you may remember the one thing you wanted most was to go home. Unfortunately, for most senior family members, that return home may be short. The Centers for Medicare and Medicaid (CMS) report that one out of every five seniors is readmitted to the hospital within 30 days after being discharged. Many times it is due to a lack of a transitional care plan. At Visiting Angels® Lufkin, we are committed to improving the lives of seniors with our transitional care program, Ready-Set-Go Home.
With Ready-Set-Go Home, we offer a comprehensive transitional care plan that begins before your loved one leaves the hospital. A transitional care provider from Visiting Angels Lufkin will meet your family member and their medical team to ensure that there are detailed post-hospital care instructions before going home. Once at your loved one's Lufkin area home, our professional caregivers provide non-medical transitional care, helping your loved one avoid an expensive hospital readmission.
Understanding Why Hospital Readmissions Occur
National research tells us that hospital readmissions may be caused by:
Lack of a discharge plan. Many families find that their loved one needs more care upon returning home than they anticipated. A discharge plan can help families to know what to expect and determine if transitional care is necessary.
Exhaustion. Resting at the hospital is nearly impossible. Unfamiliar surroundings, chaotic schedules, and constant interruptions can create anxiety, confusion and exhaust seniors.
Medications. Exhausted seniors may forget to incorporate new prescriptions after returning to their Lufkin home. Our transitional care professionals can arrange medication delivery and ensure prescriptions are taken on schedule.
Failure to follow medical instructions. Seniors can often forget follow up care instructions or even forget to follow up appointments. Transitional care provides the assistance they need to stay on top of follow up care.
Difficulty managing at home alone. Many seniors struggle to regain their strength after a hospital stay and find the activities of daily living difficult to complete.
With transitional care from Visiting Angels Lufkin, our professional caregivers can help with bathing and dressing help, driving to medical appointments, light housekeeping, grocery shopping, and preparing nutritious meals or prescribed diets.
How Transitional Care Works
Utilizing a three-point strategy, the Ready-Set-Go Home transitional care program successfully eliminates most Lufkin hospital readmissions.
At the hospital – At your request, your transitional care professional will work with your physician to complete the our discharge planning guide, creating a helpful resource with detailed instructions.
At home – A transitional care professional from Visiting Angels Lufkin can provide non-medical care ensuring that discharge instructions are carefully followed so your loved one can recover in the comfort of their home.
At our Lufkin office – Our office teams use their "will do" attitude to help your loved one. Among the many ways we help include arranging delivery for groceries, prescriptions, medical supplies, and special equipment.
Call Visiting Angels Lufkin today to schedule a no-cost transitional care consultation.
Serving Lufkin, Nacogdoches and the Surrounding Area
Visiting Angels
LUFKIN, TX
517 Gaslight Blvd
Lufkin, TX 75904
Phone: 936-622-0463
Fax: 936-622-0483