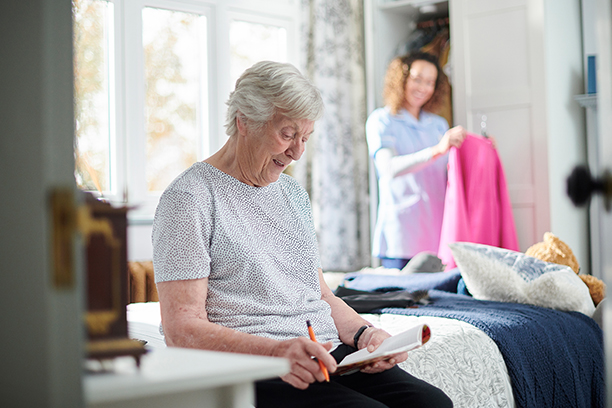 Why Choose Visiting Angels Lufkin for Elder Care Assistance?
At Visiting Angels® Lufkin, we are dedicated to going above and beyond to provide unparalleled elder care assistance. You can rest assured knowing that your parent or grandparent is in the hands of our competent, attentive, and engaging caregivers while you maintain your busy schedule and tackle life's daily hurdles. Our comprehensive and customizable elder care assistance has made us a trusted choice for elder care assistance in the Lufkin, Nacogdoches, Livingston, Center, Rusk and Huntington, TX areas.
Elder Care Assistance On Your Schedule
Between being work and the kids' schedules, you have a lot going on, and your busy schedule may not allow you to be with your loved one as much as you'd like. Our caregivers are scheduled hourly allowing for optimum flexibility around you and your loved one's schedules. We're available when you need us, whether that's for a few hours a week, a few days a week, or around the clock.
Licensed, Bonded, and Insured for Peace of Mind
Our team is dedicated to providing elder care assistance with peace of mind. Visiting Angels Lufkin is fully insured and bonded to provide this peace of mind. In addition, we carry all applicable licenses the state of Texas requires to provide elder care services. We also rigorously screen our caregivers and require background checks as an added safety measure.
Ongoing Monitoring of Care
At Visiting Angels Lufkin, we have high standards for elder care assistance. To ensure that our caregivers are living up to our high standards, we will check in with your loved one through regular telephone calls and drop-in visits. This open line of communication will help to ensure your loved one's satisfaction with our service, and also to help monitor for changes or additional services that may be required through the duration of care.
Customized Elder Care Assistance
At Visiting Angels Lufkin, we hold the firm belief that elder care assistance is more than trips to the grocery store and medication reminders. Your loved one's care plan will be completely customized based on their needs, preferences and personality. Your loved one is unique, and they deserve a unique care plan that doesn't just help them with daily tasks, it provides them with companionship and engaging social interaction.
To learn more about the comprehensive elder care assistance that has made us a trusted provider for families in Lufkin, Nacogdoches, Livingston, Center, Rusk, Huntington, and the surrounding communities, give the team at Visiting Angels Lufkin a call today.
Serving Lufkin, Nacogdoches and the Surrounding Area
Visiting Angels
LUFKIN, TX
517 Gaslight Blvd
Lufkin, TX 75904
Phone: 936-622-0463
Fax: 936-622-0483