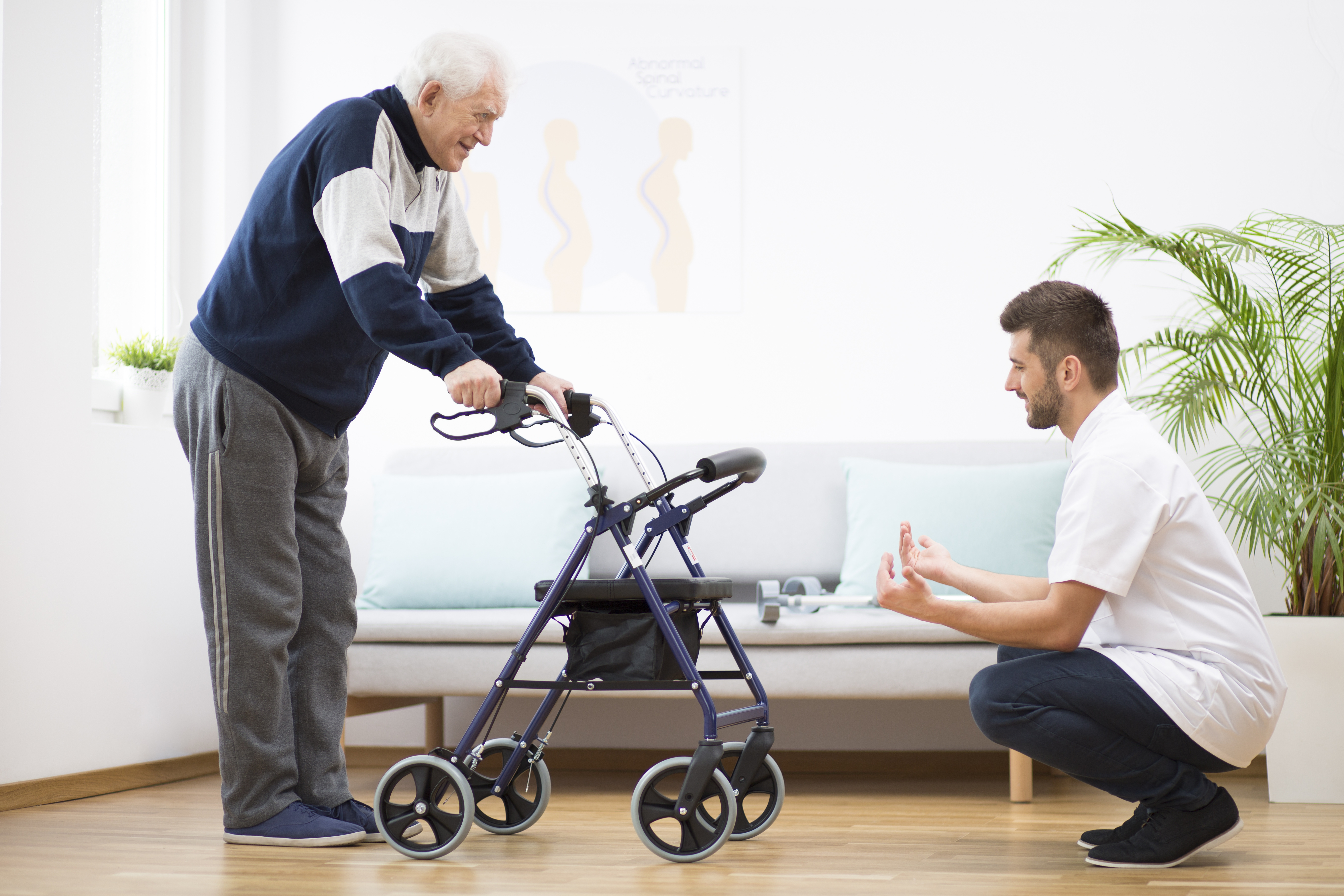 Caring for a Loved One After A Stroke
Strokes are unfortunately quite common in the United States. According to the Centers for Disease Control and Prevention, someone in the United States has a stroke every 40 seconds. May is American Stroke Awareness Month, making it an excellent time to learn about the signs of a stroke and what to do if you need to care for a loved one after a stroke.
What is a Stroke
Blood flows to the brain to provide oxygen and nutrients. When the blood supply is reduced or stopped, it causes a stroke, and brain cells begin to die. There are three main types of strokes.
Ischemic stroke: The most common type of stroke, ischemic stroke, is when the brain's blood flow is significantly reduced or blocked. These blockages are usually due to blood clots or a build-up of fatty deposits in the blood vessels.
Hemorrhagic stroke: When a blood vessel in the brain leaks or ruptures, it causes a hemorrhagic stroke. These strokes are most commonly caused by high blood pressure, blood thinners, aneurysms, or head trauma.
Transient ischemic attack: Sometimes, there's a temporary decrease of blood to the brain, which causes a transient ischemic attack (TIA) or a mini stroke. TIA occurs for the same reason as an ischemic stroke; however, it doesn't cause permeant damage. TIA does increase your chances of having another stroke, so it's essential to inform your doctor if you think you've experienced TIA.
Many strokes happen because of lifestyle factors such as obesity, inactivity, smoking, excessive alcohol, or substance abuse. Medical factors such as high blood pressure, high cholesterol, diabetes, heart disease, or obstructive sleep apnea can also cause a stroke. You're also more prone to having a stroke if you're male, African American, or older than 55.
Signs of a Stroke
Strokes are a medical emergency, so it's important to identify them early and seek immediate medical attention. One of the best ways to determine if someone is having a stroke is with the acronym FAST:
Face- Do you notice drooping or numbness of the face? Ask the person to smile and see if one side is uneven.
Arm- Is one of the arms weak or numb? Ask the person to raise their arms and look to see if one arm drifts downward.
Speech- Is the person slurring their speech? Ask the person to repeat a simple sentence and listen for slurred speech.
Time- If the person shows any of the above signs, get them to a hospital immediately. Time is vital in reducing the chances of permanent damage.
Additional stroke symptoms include sudden numbness of the face or arms, confusion, difficulty seeing, trouble walking, or a severe headache.
Tips for Caring for a Loved One After a Stroke
No one wants to imagine having to care for a loved one after a stroke, but unfortunately, it does happen. Here are some tips for caring for a loved one after a stroke.
Learn how to reduce the chances of a reoccurring stroke. One of the best things you can do to help your loved one is to learn about strokes and reduce the chances of your loved one having another. An excellent online resource is the American Stroke Association. You should also talk to your loved one's doctor for specific recommendations for your loved one. The more you know about strokes, the better you'll be at helping your loved ones care for themselves.
Monitor changes in emotions and behavior. It's not uncommon for people to experience depression after a stroke. Monitor your loved one's feelings and seek help if you feel like their exhibiting signs of depression. Also, look out for changes in behavior. Strokes affect the brain, and changes in behavior or motor skills could signify more severe damage that may need medical attention.
Be compassionate and patient. Recovery after a stroke looks different for everyone. Be patient with your loved ones and show compassion during their healing process. As a caregiver, you want to make them feel as comfortable and safe as possible.
Don't forget to take care of yourself. Taking care of a loved one is not an easy job. Don't forget to take time for yourself if you're feeling overwhelmed. By taking time to relax and recharge, you can ensure you're bringing your best self to your loved one.
Ask for help when you need it. Know it's okay to ask for help. You don't have to care for your loved one on your own. Talk to nearby relatives about setting up a care schedule or consider hiring an at-home caregiver.
How Visiting Angels Can Help
If you or a loved one recently suffered a stroke, the team at Visiting Angels Manassas can help. Our caregivers can assist seniors with personal grooming, meal preparation, mobility, toileting, medication reminders, and more. Our Manassas office serves those in Prince William and Western Fairfax counties, including Fort Belvoir and Lorton. If you'd like to learn more about our services or schedule your free consultation, fill out this online form or give us a call at 703.530.8811.