Visiting Angels is looking for new in-home caregivers to join our team of senior care professionals, serving Prince William County, as well as Clifton, Centreville and Chantilly in Fairfax County
Working at Visiting Angels is one of the most rewarding and enjoyable careers available, but it also comes with its unique set of challenges. We are always looking for new people to join our Manassas team – people who share our devotion to helping seniors lead happier, healthier lives at home as they age.
If you would like to join our team as a caregiver, we encourage you to get in touch with us and learn more about our career opportunities in the Manassas area. Our team members are not just highly trained professionals, they are also trustworthy, honest, reliable and hard-working. They have the same values and goals as we do and they want to make a real difference in the community.
We understand how much of a difference our caregivers make in our clients' lives, so we reward our team members with flexible scheduling, competitive pay, ongoing professional development, the opportunity to work close to home and a positive working environment. Our commitment to our wonderful in-home caregivers has earned us the 2021 Employer of Choice award from Home Care Pulse!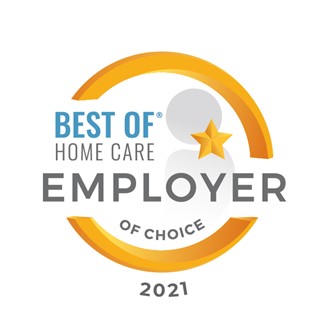 How Our In-Home Caregivers Help Older Adults
At Visiting Angels, we adopt a holistic approach to caregiving. We take care of the physical, emotional, social and spiritual needs of our clients. We help our clients overcome age-related difficulties and take on a more positive outlook on life. Finally, we build relationships with our clients and make sure they are always satisfied with our service. We are always there for our clients and we genuinely want to help them feel better and enjoy life more regardless of their medical or mobility issues.
As a care provider, some of your daily tasks in Manassas would be:
Helping seniors with personal care and hygiene, including bathing, dressing, and toileting
Assisting seniors with mobility
Providing medication and fluid reminders
Providing light housekeeping and laundering
Preparing healthy meals according to doctor or dietitian's recommendations
Running errands and grocery/home shopping
Offering transportation to doctor's appointments and social events in the area
Providing companionship and conversation
Promoting engagement in senior-friendly activities
Becoming an in-home caregiver with Visiting Angels comes with a lot of benefits and allows you to build a career and do something good for the community at the same time.
If you would like to know more about us, our services and our team, please contact our Manassas office today!
---
I am so glad I work for this Agency the coordinators the nurse are very lovely anytime time I need help they answer right away and get the help immediately and I love this job.
-Gomez R.
Best people to work with, always have best interests of their clients and workers! When they knock on your door believe me angel 😇 have visit your home.
-Ifeoma E.
I really love working with Visiting Angels, everyone makes you feel like family, they really want the best for you, If you want to work in a friendly environment this is the right place for you.
-Daniela M.
Great place to work. Everyone is treated fairly with respect.
-Hanna M.
Visiting angels is the best company I have ever worked for. They treat their employees with dignity and respect. The staff is absolutely amazing; always promoting a professional, supportive and caring work environment. They made me feel valued and appreciated during the time I worked there. The genuine interest in the care for the clients is a highlight at this company. I have seen the staff do so much, above and beyond expectations to meet a client's needs. I was very blessed to work at visiting angels and definitely recommend it to anyone seeking a good place to work or quality care for a loved one. Thank you for your help!
-Rosimeire S.