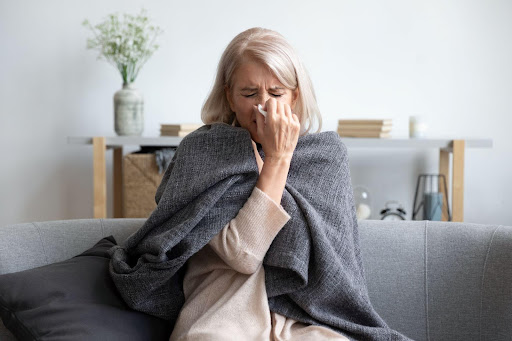 How the Flu Affects Seniors
According to the Centers for Disease Control and Prevention, about 8 percent of people in the United States get sick with the flu each year. The flu is a contagious respiratory illness that can be life-threatening in seniors, especially if left untreated. With flu season officially in flu swing, now is the perfect time to learn about how the flu affects seniors, how doctors treat the flu, and ways to prevent yourself from developing the flu.
What is the Flu
The flu is a respiratory illness caused by influenza viruses. The flu affects a person's nose, throat, and lungs, and symptoms can range from mild to severe. Common flu signs and symptoms include a fever, cough, sore throat, runny nose, body stiffness, headaches, and fatigue. The flu can lead to bacterial pneumonia and sinus infections if left untreated. Complications are more likely to develop in senior adults, especially those living with a chronic condition such as heart disease or diabetes.
The flu is contagious. It spreads through tiny droplets between people when they sneeze, speak, or cough. A person is most infectious in the first four days of the illness, but the individual can continue to spread the condition even after experiencing symptoms. Once a person is exposed to the flu, they'll develop symptoms within one to four days.
Treating the Flu
If you get sick with the flu, it's best to seek medical attention as soon as possible to reduce the risks of developing flu complications. Most doctors will prescribe an antiviral drug to fight the virus in your body. Antiviral medications can relieve flu symptoms in as soon as two days. In addition to treatments, it's also best to rest when you have the flu so your body can heal.
Preventing the Flu
There's no way to protect yourself from getting the flu fully, but there are steps you can take to reduce your chances of contracting the condition significantly.
Keep your body healthy. The healthier your body, the better chance it'll have of fighting the virus. Make sure you nourish your body with quality meals and move your body daily to keep your muscles strong.
Attend routine doctor's visits. Seeing your doctor helps them build your medical history and makes it easier to predict potential health concerns such as the flu. Doctors can also provide you with specific prevention types that work best for you.
Maintain social distance in public. The flu is contagious and is spread from person to person. When out in public, practice social distancing, especially indoors, where germs spread quickly.
Wash your hands. Keeping your hands clean reduces your chances of catching and spreading the flu virus. Ensure to wash your hands after spending time outside the house and right before you eat.
Disinfect your home. While it's less likely to contract the flu from an infected surface, it's still possible to get sick. Disinfect your house regularly during flu season, especially if you've had guests. Ensure to thoroughly clean doorknobs, refrigerator handles, and other surfaces you frequently touch.
Get vaccinated. The CDC recommends that everyone older than six months get the flu vaccine each year. The CDC also says the vaccination is particularly vital for people at a higher risk of developing flu complications, including seniors. Talk to your doctor about a flu shot and if it is the right decision.
How Visiting Angels Can Help
If you or an aging loved one gets sick with the flu this winter and needs help at home, the team at Visiting Angels Manassas, Virginia, can help. We offer part-time, full-time, and temporary care where caregivers provide a range of non-medical tasks like medication reminders, light housekeeping, mobility assistance, personal grooming, transportation, and more. Our Manassas office serves Prince William and Western Fairfax counties, including Fort Belvoir and Lorton. If you'd like to learn more about our services, you can complete this form online or call us at (703) 530-8811.