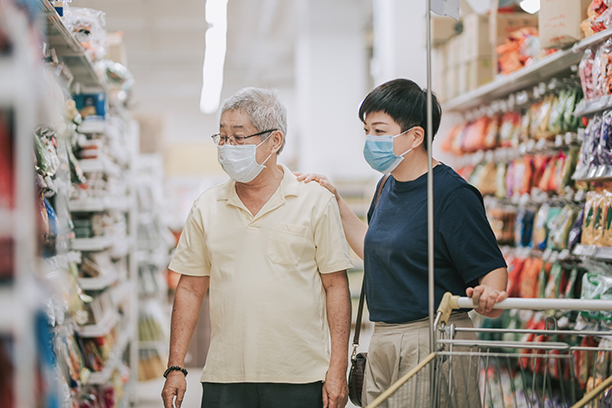 Long-Distance Home Care
Senior Care for Families Separated by Long Distance
Today, many families live hundreds or thousands of miles apart. Under normal circumstances, phone calls and text messages can help you overcome these distances. But when you are the primary caregiver for an elderly parent or relative and require immediate senior care, you will need more than just a smartphone.
These kinds of scenarios can be stressful for you and your loved one. Visiting Angels has designed specialized home care services to accommodate long-distance situations. Whether your loved one lives 90-minutes down the interstate or a nine-hour plane ride away, Visiting Angels can help bridge the gap.
Visiting Angels' long-distance home care makes it easy to find in-home care providers in your loved one's area. A personalized approach will ensure your loved one receives the care they need to live at home safely and comfortably. Professional caregivers will go the extra mile to keep you and your family in the caregiving process, no matter how many miles away you live.
Long-Distance Caregiving: A Proven Approach
With more than 20 years of elderly care experience, Visiting Angels has a proven history of long-distance caregiving, helping families who live in different cities, counties, or states.
Here are some ways Visiting Angels adapts elder care services for long-distance at-home support:
Connecting Clients with Care
Unsure where to find in-home care in another city or county? Simply contact the nearest Visiting Angels' home care office that serves your loved one's area or call 1-800-365-4189.


Long-Distance Consultations
Visiting Angels will coordinate an initial home care consultation to ensure you and other family members are included in the consultation process. Even if you live on the other side of the world, we can keep you involved via phone, email, or video.


Care Planning and Scheduling
A coordinator will develop a comprehensive home care plan and schedule as well as communicate with you by phone or email to get your input. You will also be involved when selecting a caregiver for your loved one to find the perfect care provider.


Ongoing Communication
Once care has started, you will receive regular updates, including notes about your loved one's physical, emotional, and cognitive well-being as well as any changes in their health or living situation.


Monitoring and Check-Ins
Between scheduled visits, Visiting Angels can perform drop-in visits or make check-in calls to ensure your loved one's safety and well-being. Each Visiting Angels' office operates an after-hours phone line for unexpected emergencies.


Multi-Location Care
If your loved one splits time between two cities or makes frequent long-distance trips to visit family, Visiting Angels will coordinate appropriate care through its national network of home care offices.
Personalized Long-Distance Services
Visiting Angels will design a personalized care plan for a long-distance aging parent or relative tailored to their health needs, habits, routines, personal preferences, and living situation. Sometimes, this may include short-term respite care when you may be out of reach due to family or work obligations.
Long-distance in-home assistance includes emotional support and standard services, such as companion care and personal care. Specialized support, including Alzheimer's care and dementia care, is provided for individuals with memory disorders. Other services, including a Safe and Steady fall prevention program, can be helpful if your loved one lives alone.
Visit the Life Care Navigation page to view a list of elderly care services. Visiting Angels can combine different services to design an effective care plan.
Get Started with Long-Distance Care
Visiting Angels makes it easy to find dedicated home care for a loved one who lives miles away from you. Call 1-800-365-4189 or use the online office locator to find the best home care for your loved one today!
Serving Baltimore, Bel Air, Easton Edgewater, Eldersburg, Frederick Gaithersburg, Hagerstown, Largo Laurel, Millersville, Pikesville, Silver Spring, Towson & Waldorf, Maryland
Visiting Angels Maryland Offices
Visiting Angels in Eldersburg, MD
6505 Ridenour Way E #1B
Eldersburg MD 21784
Phone: 410-324-6347
Visiting Angels in Largo, MD
9701 Apollo Dr #300
Largo MD 20774
Phone: 301-583-8820
Visiting Angels in Silver Spring, MD
804 Pershing Dr #110
Silver Spring MD 20910
Phone: 301-578-1616
Visiting Angels in Towson, MD
100 West Rd #300
Towson MD 21204
Phone: 443-841-5455
Visiting Angels in Gaithersburg, MD
971A Russell Ave
Gaithersburg MD 20879
Phone: 301-355-6578
Visiting Angels in Owings Mills, MD
10451 Mill Run Circle #400
Owings Mills MD 21117
Phone: 410-218-9506
Visiting Angels in Baltimore, MD
7206 Belair Rd
Baltimore MD 21206
Phone: 410-882-8201
Visiting Angels in Waldorf, MD
50 Post Office Rd #201
Waldorf MD 20602
Phone: 301-281-6866
Visiting Angels in Waynesboro, PA
10764 Buchanan Trail E
Waynesboro PA 17268
Phone: 717-749-0458
Visiting Angels in Millersville, MD
8338 Veterans Hwy #103A
Millersville MD 21108
Phone: 410-587-2316
Visiting Angels in Easton, MD
221 Glenwood Ave
Easton MD 21601
Phone: 443-746-0494