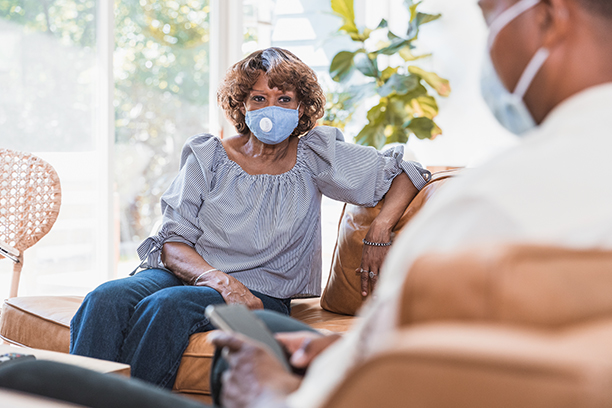 How We Assist With Aging in Place in Sharon  
Aging in place means living in the comfort of home even when age-related difficulties arise. While many seniors risk losing their independence when they encounter issues such as mobility limitations or memory disorders, those who have the help of a professional caregiver can maintain their autonomy for longer. At Visiting Angels® Sharon, we work to support elderly adults throughout their journey of aging in place and enable them to enjoy the benefits of preserving their preferred lifestyle at home.
The Importance of Aging in Place
As a trusted home care provider for elderly adults in the Sharon area, we understand why aging in place is so important for seniors. Many prefer to live at home because they can go about their normal routines and daily rituals without interruption. Others look forward to continuing with their hobbies and social pastimes. Most seniors also prefer to remain at home because doing so is simply more comfortable than the often traumatic experience of moving into an unfamiliar environment.
In-Home Care vs. Assisted Living
In-home care enables seniors to benefit from high-quality support without having to leave their homes. In contrast, assisted living takes place in a shared living facility such as a nursing home or senior care community. As a result, there are significant differences between the two types of care.
One of the most important differences of note is that seniors lose a degree of independence when they choose assisted living over in-home care. Rather than living life according to their own schedule, they must follow the rules and procedures of the facility. In addition, they are often at greater risk of exposure to infectious illnesses than those who remain at home.
How We Help Families in Sharon
We help families with serious physical limitations, cognitive difficulties, or basic care needs age in place. Our compassionate caregivers deliver tailored services designed to help seniors with their personal care routines, housekeeping and homemaking tasks, and social interactions. Every step of the way, our agency strives to promote our clients' quality of life and help them have the best experience of aging in place possible.
Our care agency makes aging in place an option for seniors in Sharon, PA and nearby communities such as Farrell, Grove City, Hermitage, Sharpsville, Greenville, and Shenango, as well as Transfer, OH, Hubbard, Mc Donald, Niles, Mineral Ridge, Newton Falls, Warren, and neighboring towns. Call Visiting Angels Sharon for a free care consultation!
Serving Communities of Mercer (PA) and Trumbull (OH) Counties
Visiting Angels SHARON, PA
734 Stambaugh Ave
Sharon, PA 16146
Phone: 724-342-2273 (Mercer)
or 330-983-5449 (Trumbull)