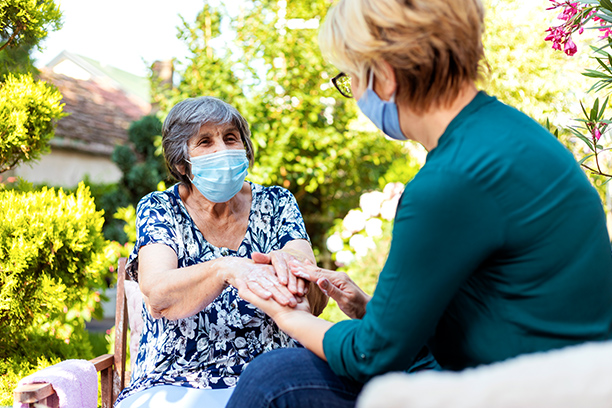 Help Paying For Services
VETERANS BENEFITS – Visiting Angels of Mid-Ohio is a disabled veteran owned business and is proud to provide services to those who have served in the Armed Forces. The VA provides benefits to qualified veterans to help pay for in home care.
VA Aid and Attendance or Housebound benefits provide monthly payments added to the amount of a monthly VA pension for qualified Veterans and survivors. At least one of these must be true:
You need another person to help you perform daily activities, like bathing, feeding, and dressing, or

You have to stay in bed—or spend a large portion of the day in bed—because of illness, or

Your eyesight is limited (even with glasses or contact lenses you have only 5/200 or less in both eyes; or concentric contraction of the visual field to 5 degrees or less)
If you need help with daily activities, or you're housebound, find out if you qualify here.
LONG TERM CARE INSURANCE – Long-term care insurance policies reimburse policyholders a daily amount (up to a pre-selected limit) for services to assist them with activities of daily living such as bathing, dressing, or eating. You can select a range of care options and benefits that allow you to get the services you need, where you need them.
Visiting Angels works with a many long-term care insurance providers. We will work with your insurance company and physician to develop a personalized care plan based on your condition and policy. Filing for reimbursement is easy and we will provide a monthly invoice and supporting visit logs that meet the requirements of your provider. Don't let the benefit you have paid for all these years go to waist, see how Visiting Angels can work with your provider to get you the care that you deserve.
MEDICARE AND MEDICARE ADVANTAGE – If you need Medicare home health care after a hospitalization or due to a condition that keeps you homebound, Medicare might cover a home health aide. Medicare will not pay for private duty home care if those are the only services needed. Personal home care services (assistance with activities of daily living) or homemaker services (e.g. light housekeeping and laundry) will only be covered if they are part of the skilled services detailed in the care plan.
Medicare Advantage plans are offered by private insurance companies. They must provide the same coverage as Original Medicare at a minimum. Many plans offer additional benefits to their members, including expanded coverage for home health care. This coverage might include coverage for at-home meal and grocery delivery, transportation to and from doctor visits, and home health aide services for custodial care not typically covered under Original Medicare.
Not all Medicare Advantage plans offer these benefits, and those that do may have limitations on how the benefits can be used. For example, the plan may choose to cover up to 50 hours per year of home health aide services, or 20 transportation trips per year. They may also require you to use a network home health agency or transportation provider. You may have a copayment or coinsurance amount for these services.
MEDICAID/ PASSPORT

–
Visiting Angels of Mid-Ohio is not currently a Passport contract provider
Serving the Communities of Richland, Ashland, Wayne, Knox, Morrow & Crawford Counties
Visiting Angels
MID-OHIO
113 N Main Street, Suite #200
Mansfield, OH 44902
Phone: 419-989-6865
Fax: 419-524-2107