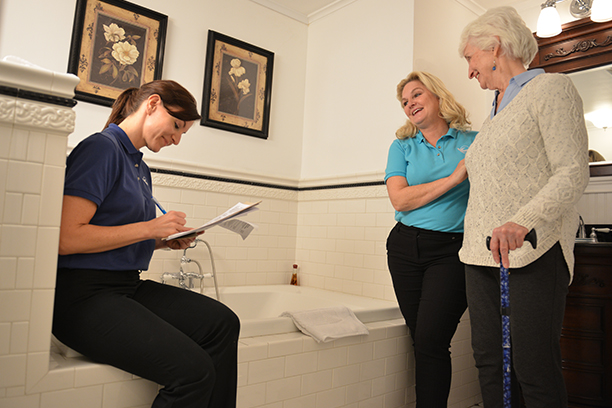 Our Character
Elder Care Services with Character in Stroudsburg PA
Whether you live down the street or across the country, choosing elder care services for your loved one isn't easy. There are so many things to worry about. Will you find the right elder care services provider? Will they be a good fit for your loved one? Will they get along? How will you know if things are alright? At Visiting Angels Stroudsburg PA, we understand your concerns. Our elder care services professionals have the skills and compassionate personalities to put your mind at ease.
Many families in the Stroudsburg area trust us for all their elder care services needs. We work closely with families throughout Monroe County to find them the elder care services professional that will be the ideal fit for their loved one. At Visiting Angels Stroudsburg PA, we understand that for elder care services to be successful the relationship between the caregiver and the client must be positive. If the client is not comfortable with their caregiver, then the quality of care is likely to suffer.
To ensure our clients have the best possible experience with their caregiver, we take great care in matching our caregivers and clients. Each of our caregivers has been selected for their caring nature. In addition to this, they must have some very important intangible traits such as compassion, care, respect, and empathy. The ability to connect on a personal level with their clients is essential.
When you choose Visiting Angels Stroudsburg PA as your elder care services agency, you will be matched with several potential caregivers who have the skill set your loved one requires. You will then have the opportunity to meet with each caregiver and choose the one you believe will be the best fit for your family. Putting you in control of your caregiver choice enables your loved one to be more comfortable with the elder care services professional they work with.
Find an elder care services provider who has the skills and compassionate nature you have been searching for. Call Visiting Angels Stroudsburg PA to learn more about our elder care services and our compassionate caregivers.
Serving Monroe, Pike & Carbon Counties and Surrounding Area
Visiting Angels
STROUDSBURG, PA
709 Seven Bridge Rd #101
East Stroudsburg, PA 18301
Phone: 570-994-1214
Fax: 570-253-9533