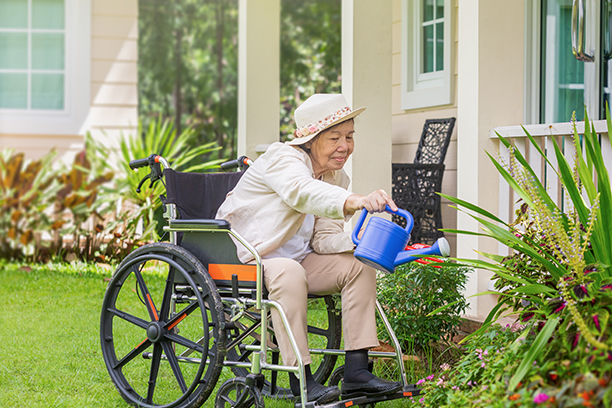 Transitional Care in Montgomery Helps Avoid Hospital Readmissions
Ready-Set-Go Home with Transitional Care
If your loved one is preparing for discharge after an inpatient hospital stay there are many things to consider. Who will help your loved one once they return home? Will someone be able to prepare the home for their return by getting food and necessary supplies? How can you be sure your loved one follows their physician's discharge instructions? These are all points to consider when planning for your loved one's hospital discharge. It may seem like a daunting task but Visiting Angels® Montgomery can help. Our Ready-Set-Go-Home program provides transitional assistance to seniors during recovery. Your loved one can continue to heal comfortably and safely with in home transitional care from Visiting Angels Montgomery.
Preventing Hospital Readmissions with Transitional Care
The main goal of transitional care services from Visiting Angels Montgomery is to help your loved one continue their recovery at home while avoiding the frustration of readmission. It is not uncommon for seniors to have return visits to the hospital during the first 30 days of their recovery. In fact, as many as 1 in 5 seniors will be readmitted during that time. Thankfully, you have access to transitional care services from Visiting Angels Montgomery. We can help reduce this risk by monitoring your loved one and providing valuable assistance at home .
Ready-Set-Go-Home Transitional Care Program
The Ready-Set-Go-Home transitional care program from Visiting Angels Montgomery helps your loved one avoid hospital readmissions in several ways:
At your request, we can visit your loved one in the hospital and provide them with a copy of our discharge planning guide. This guide provides your loved one with valuable information to help them stay on top of their recovery and avoid readmission. We can also meet with the hospital's discharge planner to help ensure a smooth transition for your loved one.
Once home, your caregiver can monitor your family member and report any missed follow up appointments and medication doses. We can help identify the causes so that any issues can be addressed immediately.
Transitional care professionals from Visiting Angels Montgomery work behind the scenes at our office to identify clients who are at a higher risk for readmission and use our resources to help. We can arrange for delivery of food and medications, offer reminders and accompany your loved one to follow-up appointments.
Call Visiting Angels Montgomery now to learn more about our transitional care services.
Serving the Greater Montgomery Area
Visiting Angels
MONTGOMERY, AL
4213 Carmichael Rd
Montgomery, AL 36106
Phone: 334-245-6390