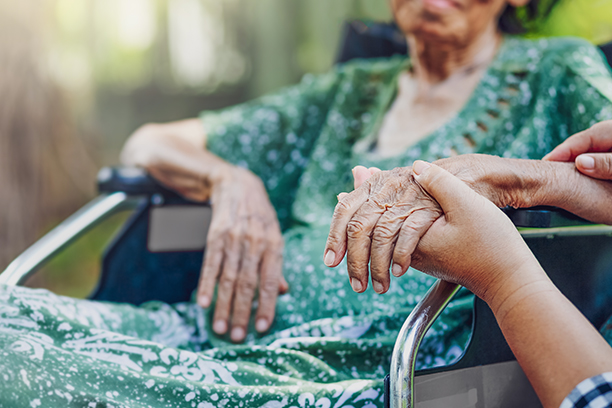 About Visiting Angels NH
VISITING ANGELS Nashua, NH TEAM
Louise Murphy has owned and operated Visiting Angels of Southern NH since early 2009. After more than 20 years in the banking industry (first as a Commercial Real Estate and Development Lender and then as an Investment Banker), Louise has always had a strong focus on providing superior customer service and crafting individual solutions for individual people.
In 2007, Louise's father (Charlie) was diagnosed with Alzheimer's Disease. After the diagnosis, she spent time learning about the disease (and is still learning) and realized the level of care and caring that it takes to be a good caregiver to someone with this disease. Coming from a large family, Louise thought her father's care would be "easy" and that everyone would pitch in to provide the necessary care. It quickly became apparent that not everyone is cut out to be a caregiver—not everyone has an enormous level of patience, not everyone lives close enough to be there. Implementing her experience in problem solving, Louise worked with her mother and siblings to put together a plan to provide for her father's needs and discovered the world of caregiving. Sadly, Charlie lost his battle with Alzheimer's Disease in 2013, but Louise continues her passion for helping family members of others with the disease.
Many of our clients have Alzheimer's Disease (or some form of dementia). Louise enjoys working with families to help craft the solutions that work for them. Every client is different. Every caregiver is different. Meeting the clients and finding the "perfect" caregiver for each individual client mark the highlight of being the Director of Visiting Angels of Southern NH for Louise.
Louise Murphy is active with the Alzheimer's Association, having participated in the Walk to End Alzheimer's since 2009. You can find us at the Central NH Walk; our team name is Charlie's Angels. Join us—we'd love to have you!
Ms. Murphy holds a Masters of Business Administration Degree, cum laude, from Babson College and a Bachelor of Arts Degree in Mathematics from Smith College. She also holds the Certified Senior Advisor (CSA) designation and a Certificate in Care Management from the Center for Aging and Disability Education and Research at Boston University School of Social Work.
Our OfficeTeam
Deirdre Hewett, Business Development Director, joined Visiting Angels in 2015 after many years working with elderly in multiple capacities. Deirdre spent three years with a specialized residential dementia-only care community, as Community Liaison and Director of Sales and Marketing. She then spent a year working with a home care agency in Southern New Hampshire. Prior to joining Visiting Angels Nashua, NH, Deirdre acted as Business Development Director for three nursing and rehabilitation facilities in Massachusetts. Her family is also impacted by Alzheimer's Disease and therefore she is keenly aware of the daily needs of our clients and even more aware of the need to match the right caregiver with the right client. At Visiting Angels, Deirdre is responsible for meeting with prospective clients, coordinating care plans and matching caregivers with clients. Most importantly, she is responsible for meeting the ever-changing needs of our clients. Additionally, Deirdre is responsible for developing relationships with Case Managers, Discharge Planners, Resident Coordinators and other referral sources throughout our community.
Ms. Hewett holds a Bachelor of Science Degree in Business Administration from Providence College.
Catherine Dion, SHRM - CP, Human Resources Director, joined Visiting Angels in 2011 after witnessing firsthand the amazing care offered by Visiting Angels Caregivers during her sister's battle with Scleroderma. She began as a Scheduling Coordinator and learned the unique needs of our clients and caregivers. Katie's background includes seven years in order administration, and she fully utilizes her background in her daily functions. She is charged with ensuring compliance with our licensing requirements for all new hires as well as long term employees. Her keen understanding of what it takes to be an amazing caregiver makes her uniquely qualified to hire only outstanding caregivers! At Visiting Angels Nashua, NH, Katie is responsible for all aspects of the hiring and retention.
Ms. Dion has studied at the University of Massachusetts-Boston. In 2019, Katie earned the Society of Human Resource Management - Certified Professional designation.
Kimberly Roberge, LPN, Client Care Manager, joined Visiting Angels in 2019 after 20 years working as a Licensed Practical Nurse at doctors' offices, a dialysis unit, and women's health center. Additionally, she held was a Nurse Supervisor at an assisted living facility / memory care unit in the Southern NH area. Prior to earning her LPN, Kim worked as an Emergency Medical Technician. At Visiting Angels, Kim is responsible for ensuring client concerns are addressed and needs are met. Kim is also responsible for caregiver supervision and ongoing training. Ms. Roberge also serves as the Safety Officer for Visiting Angels.
Ashley Serra, LNA, Client Care Coordinator, joined Visiting Angels in 2019. As the Care Coordinator, she is responsible for ensuring client schedules are complete and assists in the hiring of new caregivers. Ashely is also responsible for training and mentoring new caregivers and introducing caregivers to new clients. Ashley has 15 years of experience in home care and hospice care as a Certified Nursing Assistant. She been an active Licensed Nursing Assistant (LNA) since 2014.
Jane Wright, LNA, Hiring Coordinator, joined Visiting Angels in 2016 as a Caregiver. Jane proved to be an invaluable caregiver! With her prior office experience, Jane was promoted in 2018 to the Client Care Coordinator position. In 2019, she assumed the Hiring Coordinator Position. She is responsible for screening applicants and assists in all aspects of the hiring process. Jane also provides training and mentoring for new caregivers.
Michael Murphy, Billing & Payroll Coordinator and Social Media Manager, joined Visiting Angels in 2014 as a part-time Office Assistant. He currently is responsible for all client invoicing and all payroll functions. Mike is also responsible for all social media accounts.
Norah Sutton, Recruitment Coordinator, joined Visiting Angels in 2016 as a caregiver, having previously served as Director of Volunteer Services for The Hunt Community in Nashua for over 15 years. After "retiring" in 2017, Norah decided to come out of retirement in 2018. As our Recruitment Coordinator, she is responsible for fostering relationships with local LNA schools and nursing programs as well as developing other avenues for recruiting high-quality caregivers.
Treasa Zink, On-Call Coordinator, joined Visiting Angels in 2018. Treasa is responsible for resolving issues, including urgent client and caregiver concerns, that occur during non-business hours. Ms. Zink hold a Bachelor of Science Degree in Early Childhood Education from Eastern Nazarene College.
Visiting Angels of Southern NH is an active member of the Greater Nashua Chamber of Commerce.
Serving Nashua, Merrimack, Hudson, NH and the Surrounding Communities
Visiting Angels NASHUA, NEW HAMPSHIRE
39 Simon St #4
Nashua, NH 03060
Phone: 603-821-0277