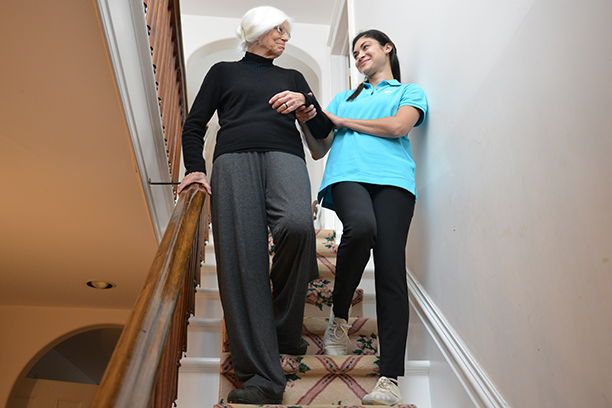 How We Assist With Aging in Place in New Braunfels
Growing older isn't something that can only safely be done in a nursing home or senior care center. Aging in place safely, comfortably, and with dignity is possible with the help of a kind and capable senior care provider. At Visiting Angels® New Braunfels, we are ready to change the narrative on the options available to seniors as they age. Our customizable in-home senior care services offer the high-quality support and well-rounded assistance elderly adults require to remain at home while enjoying their lives for as long as possible.
The Importance of Aging in Place
Many families overlook the advantages that aging in place offers for elderly adults. For example, seniors who live at home while growing older have the benefit of staying in familiar surroundings. Their home environment and the warm memories associated with it can be soothing in otherwise difficult times. It is also simply easier for them to maintain their preferred routines and engage in little daily rituals when they live at home. These aspects of aging in place may seem small, but they can actually have a huge impact on seniors' mental well-being and outlook on life.
In-Home Care vs. Assisted Living
Assisted living centers often boast high-quality care, but living in such a facility can be detrimental to seniors' sense of autonomy. Moving away from home comes with a number of compromises, and the senior's independence is often the first thing to go. Residing in a care center can require care recipients to change how they go about their daily lives and can remove the potential for spontaneity. Such a transition can thus be mentally and emotionally difficult for elderly adults, and many would prefer to stay at home rather than making this move.
How We Help Families in New Braunfels
Our caregiving services enable elderly adults to live at home even when their age-related difficulties seem to pose tremendous obstacles. These services can range from basic support with daily tasks to advanced supervision and help coping with the symptoms of Alzheimer's disease. We craft custom senior care plans for every care recipient that can easily be modified throughout their journey of aging in place.
Explore the opportunities that aging in place offers for your loved one. Call Visiting Angels New Braunfels today to reserve a free consultation in New Braunfels, Boerne, Fredericksburg, Kerrville, San Antonio, Seguin, or a nearby community!
Serving Boerne, Fredericksburg, Kerrville, New Braunfels, San Antonio and Seguin, TX
Visiting Angels
NEW BRAUNFELS, TX
1902 E Common St #500
New Braunfels, TX 78130
Phone: 830-625-5414
Fax: 830-625-5395