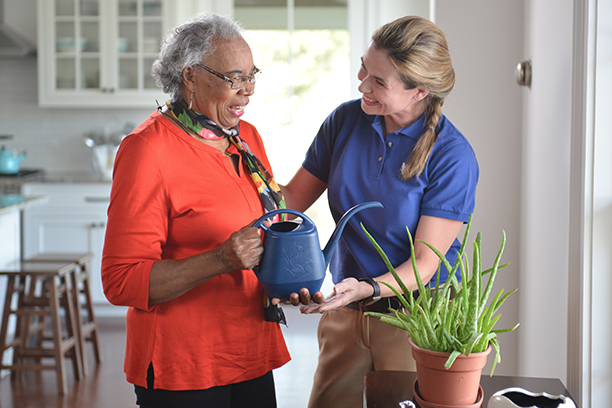 Home Care for Seniors in Carlsbad's La Costa Neighborhood
For essential home care that makes aging in place for seniors in Carlsbad's La Costa community possible, you can count on our care agency. At Visiting Angels® of North County, we are proud to be under local ownership and operation. We are proud to have earned a reputation for offering trusted care for individuals residing in:
La Costa
And the surrounding areas
Whether you have a spouse who requires 24/7 assistance or a parent who is starting to show signs of loneliness and isolation, a caregiver from our team can be of assistance. We create custom home care plans for seniors that deliver all the support they need to lead fulfilling lives and stay at home for as long as they want.
Home Care Services We Offer in La Costa
Curious about what home care entails and how it can specifically help your loved one with their day-to-day needs? The answer is different for every senior, but some of the activities our caregivers commonly lend a hand with include:
Going to the grocery store and pharmacy
Preparing meals and designing a meal plan
Providing reminders to take medications on time
Doing light chores and home organization
Walking, mobility, and safe transfers
Staying socially active through companionship
Specialized Home Care Options for La Costa-Area Seniors
To cover the many needs of seniors in the La Costa area, Visiting Angels of North County offers specialized senior care services. Learn more about some of these options below.
Alzheimer's Care and Dementia Care
Alzheimer's care and dementia care are two categories of home care that address the needs of seniors experiencing cognitive decline due to a memory disorder. These services are designed around each senior's personal risks and their goals for aging in place. Supervision, physical support, reminders, and more are all available to help seniors remain in familiar surroundings and cope with moments of confusion.
Respite Care for Family Caregivers
Caring for a parent or spouse can test your endurance and drain you mentally and emotionally. While caregiving is ultimately a rewarding task, failing to take a break can put you at risk of struggling through burnout. We would like to help family caregivers avoid feeling exhausted and burned out, which is why we offer respite care. These services can be delivered according to the schedule and needs of the family members selflessly supporting their loved ones.
Kind and Loving Companion Care
Consistent socialization is crucial for the mental and emotional well-being of people of all ages. Unfortunately, it can become increasingly difficult for seniors to maintain an active social life when age-related factors stand in the way. Companion care provides the warmth and conversation older adults often crave while also helping them manage everyday activities.
Ready-Set-Go Home Transitional Care
Hospital readmission rates are particularly high among seniors, and elderly adults are most vulnerable to being readmitted to the hospital in the first thirty days after a discharge. Our Ready-Set-Go Home program includes wide-ranging home care services designed to lower the chance of complications that could trigger a readmission.
Our Safe & Steady Fall Prevention Program
As falls are one of the main causes of injury among the elderly, fall prevention plays a key role in helping them maintain a healthy and independent life at home. To assist care recipients in avoiding a slip or fall, we recommend important fall-proofing measures and tailored techniques. We also identify personal risk factors and address these issues through careful mobility assistance and other home care services.
Providing Holistic Support Through Palliative Care
Palliative care is designed to support seniors with serious conditions and life-limiting diagnoses. Our caregivers incorporate in-home care of a social, emotional, and physical nature to help seniors avoid the discomfort of certain symptoms or treatments while uplifting them through emotional care and providing a shoulder to lean on for your family.
Promoting Fun Social Connections Through Social Care
Another way to increase your loved one's social interaction is to help them navigate fun communication tools that may seem too intimidating for them to use on their own. Our Social Care program instructs elderly adults in the use of various platforms and innovative apps so they can connect with the people they love more often, all from the comfort of home.
How We Help La Costa Seniors Arrange In-Home Care
As the care we deliver is customized to address the concerns of the families we serve, we take a personalized approach to setting up in-home care that includes the involvement of both seniors and their family members.
Take a look at the following steps to understand what you can expect when you start to arrange professional home care for a loved one:
A call to our office. During an initial conversation over the phone, we can answer your family's basic questions and provide general information about our range of senior care services.
An in-depth in-home consultation. Next, to give you more detailed information, we will visit your loved one's home for a free consultation. At this stage, we will talk with your loved one about their desires for aging in place, the challenges they often face at home, and their personal preferences and lifestyle. We will also provide you with detailed answers to any questions that arise. Any family members how are interested are welcome to attend this meeting and provide their input.
Building a working care plan. Next, we will design a custom plan along with your family's help. This program will consist of the specific services your loved one has requested, as well as a projected timetable for their caregiver visits.
Meeting a professional caregiver. Finally, we'll arrange for your loved one to be set up with a care provider from our local team. This match will be made with plenty of consideration given to promoting your loved one's comfort and encouraging a natural bond to form between them and their caregiver.
Get Started with Home Care in La Costa Today
Call (760) 736-9934 to connect with Visiting Angels of North County and request a home care consultation in the La Costa area!
Serving North County San Diego - Carlsbad, Oceanside, Vista, Escondido and San Marcos
Visiting Angels
NORTH COUNTY SAN DIEGO, CA
135 Vallecitos de Oro #D
San Marcos, CA 92069
Phone: 760-736-9934
Fax: 760-736-3162
HCO#374700125