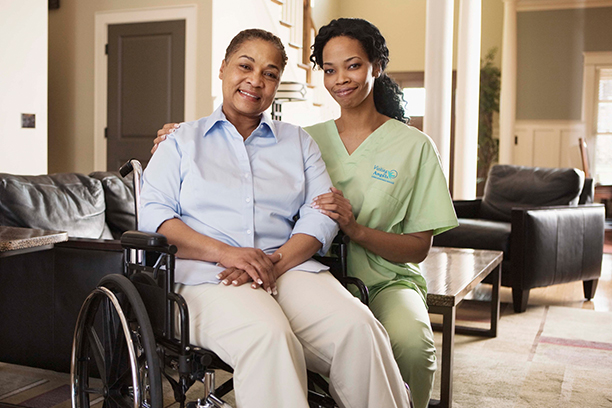 Home Care for Seniors in Carlsbad, CA
Seniors in Carlsbad, CA, have counted on the reliable home care services provided by Visiting Angels® of North County for over 19 years. Our professional caregivers provide assistance with Activities of Daily Living (ADLs) and meaningful companionship so seniors can remain in their homes instead of having to relocate to assisted living facilities. We want to provide a safe and comfortable setting for seniors in Carlsbad where they can get all the support they need without sacrificing their independence, dignity, or privacy.
Call 760-736-9934 today to learn how Visiting Angels helps seniors in Carlsbad!
Why Carlsbad-Area Families Choose Home Care from Visiting Angels
Located on the northern coast of San Diego County, Carlsbad is a popular place for people from all walks of life, including seniors. Also called the "Village by the Sea," this city offers a warm, Mediterranean climate with clear skies, a beautiful coastline, natural scenery, a variety of local amenities (including shopping centers and golf courses), and a vibrant but close-knit community. If your senior loved one has lived in Carlsbad all their life, it makes sense that they would wish to spend their golden years here. In fact, over 17 percent of people living in Carlsbad are over the age of 65!
Visiting Angels of North County has been helping seniors in Carlsbad age in place safely and comfortably since 2004. Thanks to our customized care plans and dependable caregivers, seniors living in La Costa and surrounding Carlsbad communities can remain at home while getting the assistance and companionship they need.
Here are some reasons why Visiting Angels of North County is a trusted home care provider for seniors in Carlsbad:
Personalized, One-on-One Home Care Services
At Visiting Angels of North County, we are dedicated to provide seniors in Carlsbad and the surrounding regions with warm and kind in-home care, giving you the peace of mind to spend time away from your loved one while knowing they are in good hands. Without assistance, caring for an elderly relative may quickly become overwhelming. Our approach to senior care offers convenient, on-demand solutions for Carlsbad-area families.
Visiting Angels of North County recognizes the wide variety in senior care needs. While some seniors need ongoing reminders and monitoring, others require direct physical support. However, for many elderly people, all they really want is some assistance and company. That's why we provide a variety of home care services that can be tailored to an individual client's needs, schedule, and preferences. So, whether your loved one needs around-the-clock care or just occasional respite care to bridge the gaps, we are here to support you.
Some of our home care services include:
Light housekeeping
Medication reminders
Meal preparation
Personal hygiene assistance
Mobility assistance
Transportation
Help with running errands
Toileting and incontinence care
And more
In addition, the Senior Life Care Navigation program offers solutions for seniors in Carlsbad who may need more specialized in-home care. Here's an overview of what each of these programs has to offer.
Companion Care
Our in-home companion care services, which often entail stimulating conversation and providing a caring presence from a reliable caregiver, can be beneficial to independent seniors who are in risk of social isolation.
Private Duty Care
We help seniors who struggle with basic everyday duties like taking care of their personal hygiene by providing them with private duty care.
Respite Care
Family caregivers in Carlsbad should prioritize their own health and well-being, but this is not always the case. Visiting Angels of North County's respite care services provide family caregivers with a much-needed break whenever they need to recharge, with the peace of mind that comes from knowing a trained home care professional will take care of their senior loved one in their absence.

Alzheimer's Care and Dementia Care
You may worry about your loved one's ability to maintain their independence if they have been diagnosed with dementia. Fortunately, our Alzheimer's care and dementia care services allow seniors to remain in the familiar surroundings of home while receiving high-quality care at home.
Ready-Set-Go Home
Seniors who are about to be discharged from the hospital may benefit greatly from Visiting Angels of North County's Ready-Set-Go Home program. In-home care from our caregivers can help seniors return home from the hospital, concentrate on recovery, and reduce the likelihood of readmission.
Palliative Care
Our palliative care services address the needs of seniors as a whole, including their physical needs, emotional needs, their needs for social interaction, and their spiritual needs. Elderly adults in Carlsbad who have chronic, long-term health concerns may find solace in the company of a kind caregiver who can provide the in-home care they need.
Social Care
The goal of our Social Care program is to help seniors keep in touch with family and friends who live outside of Carlsbad by teaching them to make the most of their smartphones, social media, and other digital tools and platforms.
Fall Prevention
Elderly adults who live alone have a far higher risk of falling. That's why at Visiting Angels of North County, we take preventative measures by performing fall safety evaluations and personal risk assessments to lower the chance of falls for seniors in Carlsbad.
End of Life Care
Our end of life care services offer assistance and emotional support for seniors during the end of life process. Having a Visiting Angels of North County home care professional help with caring for a terminally ill family member can be a huge relief for the family.
Call 760-736-9934 to learn more about our senior care options!
Professional and Kind Caregivers
Visiting Angels of North County understands how challenging it may be for some Carlsbad-area families to entrust a stranger with the care of an elderly loved one. This is why we are so selective about the caregivers we hire. We conduct thorough interviews and background checks on all of our prospective caregivers. To be considered for employment, a candidate must not only have an outstanding reputation but also substantial experience providing care for older adults.
We are very proud of the considerate, loving, thorough, and patient home care services we offer to seniors in Carlsbad and the North County area of San Diego County. Our caregivers quickly form strong bonds with their clients as a result of the careful attention given to each client's personality, schedule, and care requirements. Because of all the support, love, and companionship they provide, the families we work with often tell us they consider their Angel to be a part of their own family.
A Strong Local Presence
Visiting Angels of North County has been providing in-home care for seniors in Carlsbad and surrounding communities since 2004. We want to improve the quality of life for older adults in Carlsbad and make it easier and more enjoyable for them to age in place.
Making ensuring your loved one receives assistance is crucial given the frequency of emotional problems among seniors. Mental and physical health are two aspects that might suffer as a result of emotional distress. For this reason, we place equal emphasis on providing assistance with everyday tasks and companionship. Each member of our senior care team is a warm and welcoming individual who spreads joy to their clients. We are pleased to play a role in making the lives of seniors in Carlsbad both safer and more fulfilling.
Our caregivers not only help seniors with ADLs, but they also offer emotional companionship and encourage their clients to take part in a wide range of enjoyable activities available in the Carlsbad area. For example, our caregivers can accompany your loved one to the State Street Farmers' Market, while playing a round of golf at the Rancho Carlsbad Golf Course, or on a tour of The Flower Fields at Carlsbad Ranch. We can also help with transportation if your loved one wants to go swimming at the Alga Norte Aquatic Center, check out books at the Carlsbad City Library, or attend classes at the Carlsbad Senior Center. Of course, if your loved one wants to spend the day at home, our caregivers can prepare meals, keep them company, and help with errands.
Get started with in-home care from Visiting Angels of North County by contacting our San Marcos, CA office today!


Serving North County San Diego - Carlsbad, Oceanside, Vista, Escondido and San Marcos
Visiting Angels
NORTH COUNTY SAN DIEGO, CA
135 Vallecitos de Oro #D
San Marcos, CA 92069
Phone: 760-736-9934
Fax: 760-736-3162
HCO#374700125