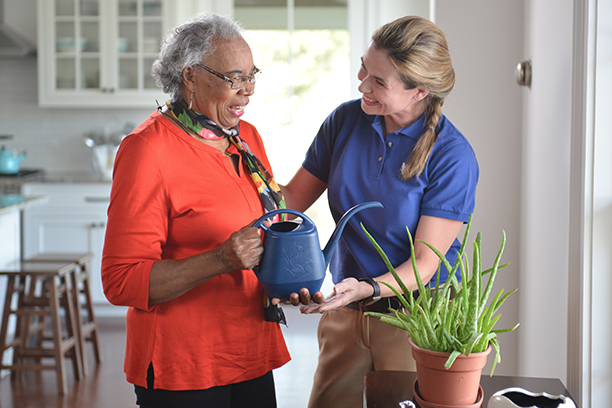 Quality Home Care for Seniors in Oceanside, CA
How can you provide your loved one the in-home assistance they most likely need if you're worried about their safety and well-being as they age? Adults over the age of 65 in Oceanside, CA who choose to age in place often find that in-home senior care is the best option for them. For home care in Oceanside that is guaranteed to be personalized, safe, and dependable, local seniors and their families rely on Visiting Angels® of North County.
Give your loved one the gift of enjoying their golden years at home, where they really want to be. Our personal essential care services have enabled seniors in Oceanside and surrounding communities to maintain a degree of familiarity and independence that are crucial to their overall sense of well-being since 2004. Knowing that your loved one has a committed caregiver who is ready to support them through the ups and downs of aging may ease your mind and prevent you from worrying that they will need to move away from home to have their needs met. You can feel hopeful about the future now that you know Visiting Angels of North County is attending to your loved one's needs.
Call our San Marcos, CA office at 760-736-9934 to learn how we help Oceanside seniors age in place!
Home Care Services Available in Oceanside, CA
Visiting Angels of North County offers a wide range of home care services for seniors living in Oceanside, including:
Light housekeeping
Medication reminders
Meal preparation
Personal hygiene assistance
Mobility assistance
Transportation
Help with running errands
Toileting and incontinence care
And more
Our Senior Life Care Navigation collection of home care services also includes specialized programs to meet some of the most prevalent requirements of seniors in Oceanside. Here's a quick rundown of what each of these programs offers.
Private Duty Care
Through private duty care, we want to aid seniors who have difficulty with fundamental activities of daily life, such as physically hard chores like taking care of their personal hygiene.
Companion Care
Independent seniors in danger of social isolation might benefit greatly from our in-home companion care services, which typically include providing them with a friendly face and engaging conversation.
Palliative Care
We've made sure that our palliative care services cover all bases of senior care, from the physiological to the psychological to the spiritual to the emotional to the social. An attentive caregiver who is prepared to provide comprehensive home care services may be a bright spot in the lives of seniors and provide much-needed comfort from chronic long-term health issues.
Respite Care
It's important for family caregivers to take care of themselves, but that doesn't always happen. Respite care from Visiting Angels of North County allows them to take the much-needed break whenever they're ready to recharge while giving them peace of mind knowing a professional caregiver will take over caregiving responsibilities.
Social Care
Through our Social Care program, we teach seniors how to utilize cellphones, social media, and other digital tools and platforms to maintain meaningful relationships with loved ones who live far away.
Fall Prevention
There is a high risk of falls among elderly people who live alone. To reduce the likelihood of a fall, we use a proactive approach by conducting fall safety evaluations and individual risk assessments.
Ready-Set-Go Home
The Ready-Set-Go Home program from Visiting Angels of North County may be very helpful for seniors who are about to be released from the hospital. Our caregivers can help in preparing for release, providing in-home care that helps seniors focus on recovery, and assist in avoiding issues that could result in readmission.
Alzheimer's Care and Dementia Care
If a loved one has been diagnosed with dementia, you may be concerned about their capacity to continue living independently at home. With our Alzheimer's care and dementia care services, they may get expert in-home care without having to move out of their home, where they feel most comfortable.
End of Life Care
Having a home care worker from Visiting Angels of North County assist with caring for a loved one who is terminally ill may be a tremendous assistance to the family.
Call 760-736-9934 to learn more about our home care services!
Why Oceanside-Area Families Choose Visiting Angels for Their Home Care Needs
The following are some of the reasons why Visiting Angels of North County has been regarded as a reliable supplier of in-home care for seniors in Oceanside and neighboring communities for over 19 years:
We Offer Reliable, Experienced In-Home Caregivers
Visiting Angels of North County recognizes the difficulty some Oceanside families may have in entrusting a stranger with the care of a senior family member. Because of this, we only hire caregivers whom we would trust with our own families. Each potential employee is subjected to in-depth interviews and background checks. Only those with impeccable reputation and extensive expertise caring for seniors are considered for employment.
We take great pride in the compassionate, caring, thorough, and patient home care services we provide to elderly and disabled adults in Oceanside and around the North County area of San Diego County. Because of the careful consideration given to each client's personality, schedule, and care needs, our caregivers rapidly develop close relationships with their clients. The families we work with frequently tell us they think of their Angel as a member of their own family because of all the help, love, and companionship they get from them.
We Offer a Personalized Approach to Home Care
Visiting Angels of North County is aware of the fact that the requirements of the elderly are often very varied. Some seniors need direct physical assistance, while others require continual reminders and monitoring. However, many seniors simply desire a helping hand and some companionship. That's why we provide a wide range of individualized senior care services that may be provided right in the comfort of the client's own home, allowing us to meet the demands of a wide range of seniors in Oceanside and nearby communities.
Your loved one will be in excellent hands, and their ever-changing care needs will be met with the dignity. compassion. and respect they deserve. Care recipients are always paired with understanding caregivers, and care plans are flexible enough to accommodate their evolving requirements and preferences over time.
We're Local
Since 2004, Visiting Angels of North County has been helping seniors in Oceanside and the surrounding areas by providing them with in-home care. Our goal is to enhance the standard of living and facilitate ageing in place for Oceanside seniors who wish to live independently.
Situated on the northernmost end of the San Diego coastline, Oceanside is home to warm and sandy beaches, beautiful scenery, and many different places of interest. Not only is this city a popular tourist destination, but it's also a great place for older adults. In fact, about 17 percent of people living in Oceanside are age 65 or older and 29 percent of Oceanside's senior population live independently! With so many local amenities, sunny weather, and a tight-knot and vibrant community, it's no wonder that seniors who live in Oceanside would want to live out their golden years here. Whether your senior loved one has lived in Oceanside for years or wishes to retire here, Visiting Angels of North County can make their wishes to age in place a reality.
In addition to assisting seniors with Activities of Daily Living (ADLs), our caregivers provide emotional companionship and actively encourage clients to take part in a variety of fun activities in the Oceanside community. Whether your loved one needs a ride to the fitness center at the El Corazon Senior Center, a reminder to return checked out books to the Oceanside Public Library, someone to accompany them to doctor's appointments at Scripps Coastal Medical Center Oceanside, or someone to spend the day at home and prepare meals for them, our caregivers will be there to ensure their health, safety, and comfort.
We proudly provide in-home care for seniors throughout the North County region of San Diego County, including:
And the surrounding community
Want to learn more about Visiting Angels of North County? Call 760-736-9934 today!
Getting Started with Home Care in Oceanside from Visiting Angels
The first step to getting started with our uncomplicated, stress-free process for arranging home care in Oceanside is to have one of our expert senior care advisors come to your loved one's home to speak with you both and conduct a complimentary, in-depth assessment of all their needs.
We'll look at every factor that might contribute to your loved one's care, including:
Scheduling needs
Housekeeping needs
Physical care needs
Emotional care needs
Safety needs
Personality
Likes & Dislikes
Interests
We use the information from this assessment to formulate a personalized plan of care. This plan will be adaptable to your loved one's changing needs and schedule, as necessary.
We place just as much importance on matching intangible qualities as scheduling and care needs. We believe this is why our senior/caregiver matches are so successful.
Our caregivers are available when you need us, including overnight, weekends, 24/7, respite, part-time, or full-time.
Our payment plans are also designed to be flexible and our rates are hourly. We find that by building so much flexibility into our home care, we're able to make our services more accessible to a variety of Oceanside-area families.
To learn more about our caring and compassionate home care options in Oceanside, please contact Visiting Angels of North County today and arrange for a complimentary, in-home consultation.


Serving North County San Diego - Carlsbad, Oceanside, Vista, Escondido and San Marcos
Visiting Angels
NORTH COUNTY SAN DIEGO, CA
135 Vallecitos de Oro #D
San Marcos, CA 92069
Phone: 760-736-9934
Fax: 760-736-3162
HCO#374700125