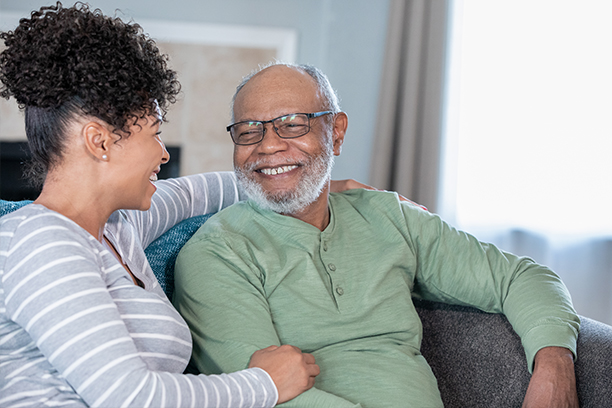 Reviews for Visiting Angels of North County
"Visiting Angels is a highly respected company. They always fulfill your needs for your love ones, and will go out of there way to assist you for whatever you need. I'm so glad I chose them. They were able to keep my brother happy, who I took care of for the past nineteen years until his passing. I can't thank Visiting Angels enough."
- Raul P.
"Visiting Angels is it great resource for families seeking care for a loved one. As one of their employees, it is an honor to be a part of this organization."
- Carol M.
"I took my time and did quite a bit of research to find the right fit for our situation in caring for my mom in our home. As she declined in her ability to help us help her, I knew I needed help. The team at Visiting Angels was professional, compassionate, gave me straightforward information and not pushy like some of the others I called. After deciding on Visiting Angels of North County on Friday, we got someone scheduled over the weekend for Monday night. We live in a rural area and GPS isn't accurate, so our care person, Catherine, got lost looking for our home but even after being lost she still arrived on time as she had left early since it was her first night on the job - that was a great sign right there that a person cares about their job. My mom had continued to decline over the weekend so I was glad I had someone to watch over her continuously throughout the night so I could get a few hours of sleep. Catherine was skilled and helped me get my mom into a comfortable position as we talked through what my mom might need throughout the night, even as she was becoming less responsive. Unfortunately my mom passed that night. Catherine woke me immediately. She was compassionate and I'm glad someone was there.
Jaime, the owner at Visiting Angels, is a hands-on owner who made the kind decision that because my mom had died after just a few hours on the first night, they would not charge us. I would definitely recommend Visiting Angels of North County as it was evident that the caring starts at the top and is a part of who they are and what they expect of their team."
- Julie S.
"Visiting Angels is efficiently run. The office staff is quick to respond to questions and the Visiting Angels that care for my 96-year-old mother seven days a week have been excellent."
- Ray W.
"Our family's experience with Visiting Angels is beyond exemplary. They sent the perfect person to be a companion for my mom and my mother called the Visiting Angel her friend. I would certainly recommend Visiting Angels for any family who needs care for a family member no matter how young or how old."
- Paulette B.
"When I found Jaime and her team, I could not have felt more relief. Her staff gave my grandmother a great assessment and matched her up with the most amazing caregivers! They are very attentive and definitely provided a experience that really exceeded my expectations.
I don't know when these ladies sleep. It seems like they're always there when I need them, No matter the time.
I could go on and on. Thanks ladies!"
- Esteban R.
"I broke my arm and had Visiting Angels. IT WAS WONDERFUL. On time and so helpful!"
- Carol P.
"Jaime and the staff at Visiting Angels did a great job of caring for my elderly father-in-law. Their caregivers are wonderful. They're kind, sympathetic, helpful, and hard working. No task was refused despite the level of care required. Their schedulers were pleasant to work with, efficient, and willing to adjust the schedules to suit our needs, doctor appointments, etc. Thank you for taking such great care of us!"
- Paul S.
"About a year ago, my elderly parents, who still lived independently, finally admitted they needed help in order to have healthy meals that worked with all my mother's dietary restrictions. After a fair amount of research, I recommended we meet with Visiting Angels for an assessment. Best decision ever!
At first, my folks had an Angel cook dinners twice a week, and that included grocery shopping. Then my dad became sick and had a special diet. We increased Angel hours to four days a week, for lunches and dinners, and general help between meals. The flexibility of this service is fantastic!
Then, while my dad was still recuperating, my mom took a turn for the worse and ultimately needed 24-hour a day caregiving. We gave Visiting Angels very short notice, but we had help as soon as we needed it. Yay!
As others have said, all the caregivers are competent and kind. Our special Angel is Antoinette. She's just a delight!
Mom now lives in assisted living, and dad will soon, as well. We still use Angel help sometimes for transportation to appointments, as mom is wheelchair-bound and needs an attendant. I'll be forever grateful to Visiting Angels for providing exactly the help needed this past year. Don't hesitate to let them help you!"
- Kim G.
"I am pleased to say that for the last 6 months beginning in April of 2018 Visiting Angels has been taking care of my father for 11 hours a day while I'm at work.
I was leery at best when I first started looking for someone to stay with my father during the day as you hear so many horror stories on the news of day care providers abusing or neglecting the elderly.
There were several different Angels who came to stay with my father, but Samantha was our main Angel and she truly became a part of our family in a very short time and took amazing care of dad.
The last month or so he needed more and more help and she and the other Angels were always there for him and gave me great feed back at the end of the day on how he was doing.
The last few weeks he was on hospice and they had to do pretty much everything for him and yet they never got frustrated with him and treated him like he was their own dad.
I could not recommend them high enough and if you're ever lucky enough to have Samantha come to your house you will be in good hands."
- Ed B.
"It's truly amazing how the universe provides for us once we voice our needs!
I had absolutely no idea what kind of assistance was out there, when the time came for needing help with my parents, 88 yr. old dad and 82 yr. old mother, both had dementia issues coupled with medical issues. I contacted Visiting Angels and within hours Jamie was at my home working with me to provide me with exactly what I needed. Jamie, Rosa, Jane, and Esmeralda were absolute Angels that came to me in my family's time of need. Each individual on the Visiting Angels staff are caring angels who are willing to just help take the overwhelming weight off your shoulders and without that help I might have run myself into the ground. I thank all of you Visiting Angels from the bottom of my heart!"
- Jerri M.
"Very happy with Visiting Angels, especially Nora. I needed a ride home from surgery, about 6-minute drive, surgery center would not release me to a Uber or Yellow cab. Pickup after surgery was fast, trip home was even faster and billing was what I expected."
- Temeculan T.
"My family has been blessed by Jaime and her staff for over a decade. Jaime has taken the time to really understand who my parents are as people. Somehow, she has a sense about what care is needed. Then she and her staff, have the ability to find amazing people who are willing to provide the care needed.
Most recently, my father broke a bone in his foot, is living alone, and had instructions not to walk. When I called Jaime, she took all the burden from my shoulders, with her enthusiastic personality, and her ability to take over, and handle the situation quickly. She had assistance at dad's home, very fast, and worked to find a care giver that was a great fit for my dad. Jaime is truly an 'Angel,' not only for dad, but for his entire family."
- John H.
"We've had nothing but a great experience with Visiting Angels of North County. The staff is friendly and they are easy to work with on scheduling and are sensitive to our needs. They respond quickly to questions and always with a smile in their voices."
- William H.
"For nearly six years, Visiting Angels of North County has been a godsend for me in helping me care for my 93-year-old parent who has dementia. From the beginning when we needed help after an emergency hospital stay that indicated we needed someone who could stay the night, Jaime jumped right in and seemed to know what we needed in a caregiver. The entire team has always been helpful, responsive, and caring. The caregivers are professional, well trained, knowledgeable, and compassionate. If you are in need of part-time or full-time care, I strongly recommend Visiting Angels."
- Laurie B.
"I cannot express how grateful I am for Visiting Angels! Such a great team, I had a wonderful experience with Jaime! In such an emotional time for me and my family, she was very sweet and extremely helpful. I would recommend Visiting Angels of North County to anyone seeking quality and professional in-home care."
- Nora F.
"I worked closest with Amanda who came to my home and gave my husband and I her attention in listening to the needs of my father. We set up a plan and every staff member at Visiting Angels was kind, helpful, attentive and understanding. It was easy to set up appointments for my father and I received weekly calendars of his appointments. The staff of drivers were courteous and able to assist my father to doctor appointments and activities like grocery runs, errands and lunch. I was kept in the loop of my father's outings and the staff were available to assist us as a family as needed. I would highly recommend Visiting Angels to anyone that needs extra assistance with a loved one. They met and exceeded my expectations and filled a need we had to help my father."
- Nicole G.
Serving North County San Diego - Carlsbad, Oceanside, Vista, Escondido and San Marcos
Visiting Angels
NORTH COUNTY SAN DIEGO, CA
135 Vallecitos de Oro #D
San Marcos, CA 92069
Phone: 760-736-9934
Fax: 760-736-3162
HCO#374700125