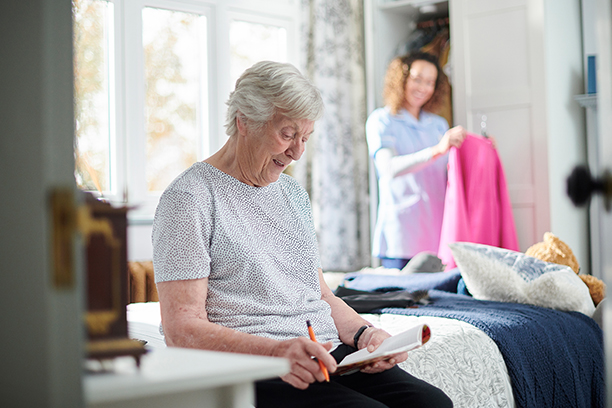 Find Home Care in Jefferson Park
When you are worried about the safety and quality of life of an aging loved one in Jefferson Park, home care can make a difference for your peace of mind. You can give your senior loved one the opportunity to live where they want and how they want when you partner with Visiting Angels® Chicago. Our home care services in Jefferson Park and the surrounding neighborhoods offer comprehensive assistance that can be tailored according to your loved one's schedule and preferred lifestyle.
As a care agency that is under local ownership and operation, we take pride in giving seniors the gift of living at home. Aging in place becomes a viable option for elderly adults when they have the care of a professional to turn to throughout the long and often unpredictable process of aging.
Our care providers offer personalized services for families in:
Jefferson Park
And throughout other Chicago neighborhoods
One of the benefits of choosing our agency is that you can rest assured we will connect you with a care provider who can provide high standards of care for your loved one. Every caregiver on our team is committed to meeting or exceeding the expectations of local families and upholding the reputation we have built for customized, compassionate, and meaningful home care.
Moreover, our caregivers are available at any time of the day or night, meaning your loved one will always be supported when they need help. Whether care visits are necessary in the evenings, overnight, on weekends, or holidays, you won't have to worry thanks to our flexible scheduling approach. To give you additional confidence in your loved one's care, we make sure all of our caregivers have undergone a thorough background check and detailed vetting process.
About Our Home Care for Families in Jefferson Park
The senior care services we offer are designed to address a wide range of home care preferences and age-related needs. Depending on the current living situation of your loved one and where they are in the aging process, we can help with tasks such as those in the following list:
Transportation and running errands
Remembering to take medication
Preparing nourishing meals
Picking up groceries and prescriptions
Light housekeeping chores
Companionship and social interaction
Respite care to relieve family caregivers
Taking a shower and getting dressed
Completing grooming routines
Walking and other activities requiring mobility
Our Customized Approach to Home Care in Jefferson Park
In order to provide you with relief from worry and have the greatest impact on the well-being of your loved one, we will take the time and effort to carefully adapt our services to your family's needs. To create a plan and schedule of care that meets your criteria, we will take you through the following important steps.
A short introductory call with our office. Let us know that you're in need of home care by calling our local office. We can review our various services with you and arrange a complementary care consultation at your convenience.
A free care consultation. One of our care professionals will visit you and your loved one for an in-home consultation. We'll take note of the living situation and your loved one's needs, as well as their daily habits, personality, and their preferences related to care. Most importantly, we will answer any questions that arise.
Building a care plan. During the consultation, we will discuss the specific services that are the best fit for your loved one's situation, as well as the right care schedule. This discussion will allow us to map out a customized care plan that can be adjusted in the future.
Selecting a caregiver. Finally, we will recommend a care provider from our local team who we believe is right for your family. We want your loved one to feel as comfortable as possible, so we will be sure to consider personality compatibility and lifestyle preferences as we make this selection.
Personal Care in Jefferson Park
While growing older is a different experience for everyone, many everyday activities become increasingly challenging for seniors as they age. We offer personal care services to help seniors overcome these challenges safely and more comfortably complete routines related to bathing and using the restroom, getting dressed, walking, completing important tasks in the home, and other activities of daily living.
Alzheimer's Care and Dementia Care Services
When someone you love starts to lose their memory or receives a diagnosis related to dementia, you may wonder if they can continue to stay at home or if a move is necessary. Our specialized services, which include programs dedicated to Alzheimer's care and dementia care, address specific issues and symptoms related to these conditions to make aging in place an option for seniors experiencing cognitive decline.
Respite Care Services
Caring for a loved one is an enormous task, and attempting to do everything on your own without reaching out for help can quickly lead you to feel burnt out. In order to preserve your energy, protect your well-being, and maintain a positive relationship with your loved one, take time off with the help of temporary coverage from a respite care provider.
Companion Care and Social Care
Seniors who become lonely or isolated as they age often face poorer health outcomes than those who have plenty of opportunities for social interaction. Through companion care, we can keep your loved one company and provide regular, friendly companionship. With social care, we assist seniors with maintaining their social contacts through innovative technology channels.
Get Started with Home Care in Jefferson Park Today
Learn about the other home care services we offer in Jefferson Park, from end of life care and palliative care to transitional care and fall prevention support, today! Call (773) 481-9515 to get in touch with our team and arrange a no-obligation care consultation for your loved one that is free of charge.
Serving Northwest Chicago and the Surrounding Suburbs
Visiting Angels
NORTHWEST CHICAGO, IL
6775 N Milwaukee Ave
Niles, IL 60714
Phone: 773-481-9515
Fax: 773-481-9530