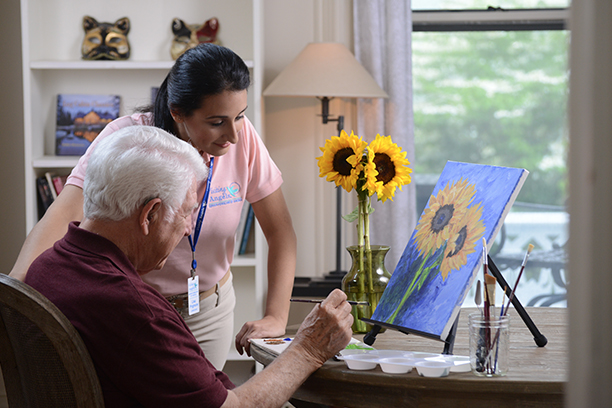 Reviews
What Do Our Clients Say About Us? The best gauge of future performance is that of past performance. Visiting Angels strives to consistently provide outstanding care to each and every client. Customer satisfaction is of utmost importance and is demonstrated by comments from our current and past clients.
Here is a sampling of comments from surveys distributed to our clients and their families during and after homecare services were provided:
"My mother is very fond of her caregiver who is pleasant, cooperative and efficient. She has also been very comfortable with other caregivers assigned when needed. Our caregiver performed services with an extraordinary degree of respect and concern for the patient's physical and emotional comfort. The family was kept well informed of all issues. An emergency situation was handled immediately and efficiently by the caregiver and agency officials."
-- Jane T., Ocala, FL
"I hired Visiting Angels for my father after a massive stroke. They made me feel that my father was safe while transitioning from being totally independent to dependent on others. I know he enjoyed the company at night when we were in the nursing home. The nursing home staff was too busy to give him the personal attention and I could not always be there. They were a Godsend."
-- Patsy H., Dunnellon, FL
"My mom, to this day, does not want to admit she needs help. Visiting Angels managed to pair her up with a wonderful, capable, stable young woman who has completely turned my mom around. This lady has been smart enough to allow my mom to feel in charge and she goes out of her way to ensure my mother does not feel helpless, by allowing her to keep her dignity. She is mom's helper, not her boss and that has made a world of difference. God Bless."
-- Debbie C., Ocala, FL
"As a health professional, I am very pleased with the care my client receives from Visiting Angels. I continue to recommend them to other clients, to my referral network, and even to my friends and family. John operates a top notch service."
-- Heather F., Ocala, FL
"I am rather young and not necessarily a person that you would think might need home care. I hired Visiting Angels to help me after I had back surgery. I loved their service so much that later on when my father needed help, I hired them for him. Wonderful company, very adaptable to any circumstance."
-- Diane C., Homosassa, FL
"Dad has now passed away, but when he wanted to remain at home (with us all working) we were able to honor his request BECAUSE Visiting Angels was so good to him from day one. Dad didn't want help, though he needed it. And if the service had failed to deliver, he would not have given us a second chance to get it right. They were such a blessing to him, and to my entire family."
-- Diane M.,Tampa, FL
"I hired VA for my dad. He was resistant to the idea, but in about one or two days of service, he has bonded with his caregiver. He is now getting himself up, shower and shave, in anticipation of his daily visit. He's gained weight (good cooking and company while eating), his home is cleaner, but most importantly, he seems more happy and less depressed then I've seen him in a long, long while."
-- Robert L., Ocala, FL
"I am very pleased with the consistent quality of caregivers which is most important to us. We fired the last service we had because they couldn't keep good help. It was a revolving door. We now feel safe and secure and we feel very fortunate that we found Visiting Angels."
-- Tom T., Ocala, FL
"My aide provides wonderful service for me. This is the third home care service I've hired. I fired the other two for lots of good reasons. I will keep with this service for as long as I might need it, I suppose till I die or my son makes me move. If those other companies had enough gumption to be surveyed like this, maybe they would too learn how to be a good company for older people. Visiting Angels could teach them a thing or two."
-- Evelyn G., Ocala, FL
"The Agency and caregivers have been extraordinary, the services have beyond my expectations in the areas of compassion, flexibility and responsibility."
-- Linda V., Chicago, IL
"Let's see. I know comments are optional, but you must know. John is great, the office staff is great, the aides are great. Bottom line, very organized, great teamwork. Everyone working toward the goal of great care and quality service."
-- Rose P., Belleview, FL
"Any time we have a question, need help with insurance paperwork, need to alter the schedule, we have found the office staff to be helpful, courteous, and capable."
-- Gayle L., Lilburn, GA
"(Caregiver's name withheld) exceeded all reasonable expectations on my part and became the friend to mom. They continue to keep in touch. Perhaps you should promote her to "sainthood". I would gladly ecstatically endorse Visiting Angels, based on this positive experience."
-- Dan B., Pensacola, FL
Providing home care services to adults and seniors in Ocala, Dunnellon, Silver Springs Shores, Belleview, Summerfield, Ocklawaha, Anthony, Beverly Hills, Citrus Springs, Inverness, Floral City, Homosassa, Homosassa Springs, Lecanto, Hernando, Inglis, Crystal River, Oxford, Morriston, Silver Springs, Reddick, Florida.
Serving Marion & Citrus Counties
Visiting Angels
OCALA, FLORIDA
8405 SW 80th St #14
Ocala, FL 34481
Phone: 352-620-8484
Fax: 352-620-8415
FL Lic.# 299994357