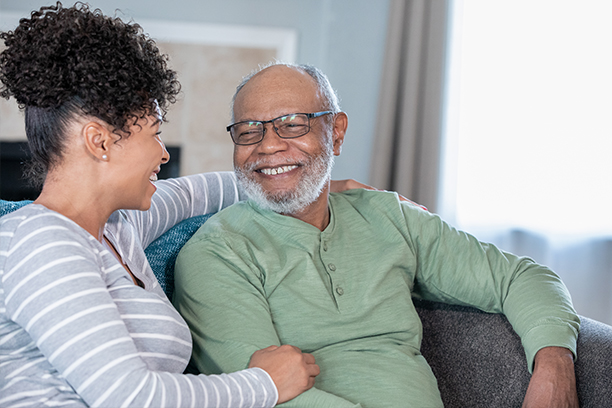 You're in Control
Client-Focused Elder Care Services in Orange County CA
Making the decision to find elder care services for your loved one can be challenging. It's hard to know where to turn or who to trust. You want your loved one to have the best elder care services. You want a home care agency you can trust to put your loved one's needs first. Where can you find the quality, focused elder care services you seek? You can find them by calling Visiting Angels Orange County CA.
Visiting Angels Orange County CA is a non-medical elder care services agency. We are dedicated to helping our care recipients find the quality care that will put them at ease. Our goal as an elder care services agency is to help your loved one live safely and confidently at home. We provide a wide range of elder care services to help achieve this goal. We can assist your loved one with anything from hygiene and grooming care to meal planning and preparation. Whatever your elder care services needs, we can create a care plan to manage them.
Each of our care recipients receives a customized care plan. We will meet with you and your loved one to learn about your health and wellness concerns. Then we'll create an elder care services plan to manage those needs. Your loved one's elder care services plan can be adjusted or changed as your loved one's needs change. Simply call our office to add more care days, shift the schedule of caregiver visits or modify the list of elder care services we provide.
With Visiting Angels Orange County CA providing elder care services, you can be confident your loved one will receive the individualized care they require. As a non-medical elder care services agency, we never dictate what your schedule should be. We believe your routine brings you comfort. As elder care services professionals, our job is to help you keep the schedule you enjoy. With elder care services from Visiting Angels Orange County CA, our schedule is your schedule.
Of course, one of the most important components of quality care is the relationship between caregiver and client. We want your loved one to be at ease with their caregiver so they can look forward to their visits. We'll partner with you to find the elder care services professional who is the ideal fit for your loved one. You'll be able to meet with and select the caregiver you'd like to work with.
Join other families across Northern Orange County CA who trust Visiting Angels to provide quality elder care services. Call our office today to learn more.
Serving Orange, Placentia, Fullerton, Anaheim, Villa Park, and Surrounding Communities
Visiting Angels
ORANGE, CA
2914 E Katella Ave #204
Orange, CA 92867
Phone: 855-86-ANGEL
714-948-5001
304700367