We understand that selecting the right home care agency is a crucial decision, and you want to ensure that your loved one receives the highest quality of home care from a compassionate and dependable team. At Visiting Angels - Orlando, we are dedicated to providing personalized care to seniors, allowing them to maintain their independence and comfort at home. Our reviews come directly from our clients and their families in the Orlando area, providing you with an authentic and transparent view of our exceptional care services.
Click here to read our reviews on Google.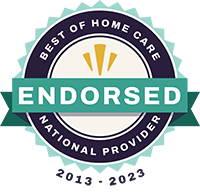 The Winter Park Visiting Angels staff was outstanding. They answered all my initial questions and made the process of getting help for Dad very easy. Dad needed extra help while at a rehab facility. The visiting angel they sent to help Dad while I was at work was a compassionate and very capable person. I received daily updates via text which allowed me to better take care of Dad after work. I am so grateful for the service they provided.
I travel for my Company and take my Mom with me but my base is in Orlando. I always use Visiting Angels (because I want the best) and have never had any issues. The Winter Park / Orlando office are far superior than any other Visiting Angels I have work with. From Peg the Owner to Paula the executive director to the office staff and caregivers I am always impressed by the extra customer service I receive. Thank You Peg for your wonderful contribution to the home care world and helping me navigate the confusing health care system.
I would recommend Visiting Angels to anyone. I broke my ankle over a year ago and called Visiting Angels to help assist with my daily needs. I had difficulty doing the most simplest things. The caregiver I had was caring, attentive and overall wonderful. Every time I called the office I was given excellent customer service. From the initial meeting with Paula, to talking with the office staff about my schedule, you could tell how much they cared about you as a client. Everyone was so friendly and personable. It is nice to know as a senior there is a company you can trust and puts you, the client first.
Our caregivers have been great. Everyone of them is kind and loving. They have become a part of the family, sometimes you don't even realize they are there and you turn around and something has been cleaned up picked up or put away. My parents are very happy. They ARE Angels!