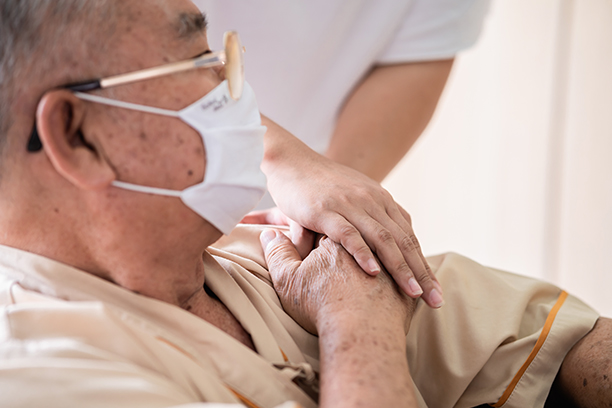 Palliative Care in Wayne, NJ and the Surrounding Area
Certified Palliative Care improves the quality of life for seniors in Wayne, Passaic, and nearby cities
At Visiting Angels of Wayne, we want to uplift our clients and provide them with an elevated quality of life through our Certified Palliative Care program.
Our program focuses on administering senior care with a holistic mindset on the forefront. We strive to provide in home care that's supportive, soothing, and comforting. Through our program, we have a mission of restoring hope within our clients and assisting with the healing process.
We focus on a wide range of needs that cater to the person as an individual. This includes their physical, emotional, social, and spiritual needs.
To address the client's physical needs, we recognize and respond to common signs among the elderly, while providing essential personal home care services to comfort our clients.

To address the client's emotional needs, we adopt a compassionate approach and support seniors who may be suffering from depression, loneliness, stress, or anxiety.

To address the client's social needs, we build relationships with our clients and their families. We also provide those in our care with companionship and conversation.

To address the client's spiritual needs, we help restore hope to seniors' lives, while helping them find comfort and relief from age-related difficulties and treating each client with dignity and respect.
Getting started with a free consultation
Getting started with Visiting Angels of Wayne palliative care is a simple process. First, get in contact with our office. You can ask any questions that you may have about our program. To get more information, you can schedule a free in-home consultation with your loved one. At Visiting Angels you can Select Your Caregiver®, receive a personalized care plan, and enjoy a friendly, compassionate, client-centered approach to home care.
Learn more about our program and schedule a free in-home consultation by calling 973-321-6057 today.
Serving Passaic & Bergen Counties including Wayne, Passaic, Clifton, and nearby Cities
Visiting Angels
WAYNE, NEW JERSEY
2190 Hamburg Tpke Suite A
Wayne, NJ 07470
Phone: 973-321-6057
Fax: 973-839-3668