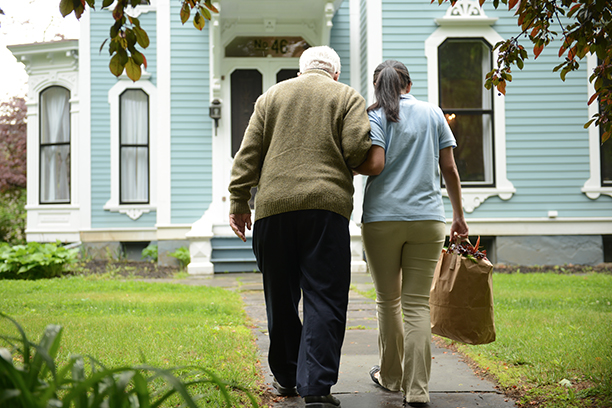 How Transitional Care in Peoria Reduces Hospital Readmissions
Ready-Set-Go Home with Transitional Care in Peoria
With Visiting Angels® Peoria, your loved one will have access to transitional care that promotes their recovery after a hospital stay and helps them avoid the need for a readmission. Our Ready-Set-Go Home transitional care program has been carefully designed to assist seniors during the crucial month following a hospital discharge. With our support, your loved one can make a successful recovery and remain at home where they feel most at ease.
These services are available throughout the Peoria area, including Bartonville, Canton, Creve Coeur, East Peoria, Pekin, Peoria Heights, and nearby communities. Whether your loved one has just been admitted to the hospital or has a scheduled discharge date, now's the time to begin thinking about how you can make their transition home as smooth as possible.
Why Do Seniors Need Transitional Care in Peoria?
Seniors who are discharged from the hospital have a particularly high risk of encountering complications that cause them to be readmitted within 30 days. Many of these complications are entirely avoidable and stem from risky behaviors like skipping follow-up appointments or an inability to adhere to doctors' orders.
Our services give elderly adults the support they need to follow through with their doctors' instructions and increase their chances of a full recovery. From assistance with mobility issues to reminders to take medications, Visiting Angels Peoria can support your loved one in countless ways during the critical month after a hospital discharge.
Our Approach to Transitional Care at Visiting Angels Peoria
Our transitional care services follow a three-step process:
In-hospital care. If at all possible, we begin our relationship with the client by providing them with care at the hospital. We'll support their loved ones during this sensitive time and guide them as they make decisions surrounding the senior's discharge. Our help with discharge planning can promote a smoother transition from hospital to home and offers much-needed awareness about readmission risks.
In-home care. After the senior is discharged from the hospital, we'll assist them with daily activities and routines that are a struggle for them to complete on their own. We'll also provide much-needed supervision to ensure that seniors are following proper recovery protocols. When necessary, we'll alert family members of significant changes in well-being before they become a problem.
Care from our office. Our staff members are always working behind the scenes at our office to support caregivers and coordinate reminders and deliveries. We also utilize innovative software that spots seniors with an especially high risk of re-hospitalization so we can provide them with more targeted care.
Help your loved one avoid a hospital readmission by getting started with transitional care today. Contact Visiting Angels Peoria for more information about our Ready-Set-Go Home program.
Serving Peoria and the Surrounding Areas, Including Peoria County and Fulton County
Visiting Angels
PEORIA, IL
4507 N Sterling Ave #401A
Peoria, IL 61615
Phone: 309-998-1000