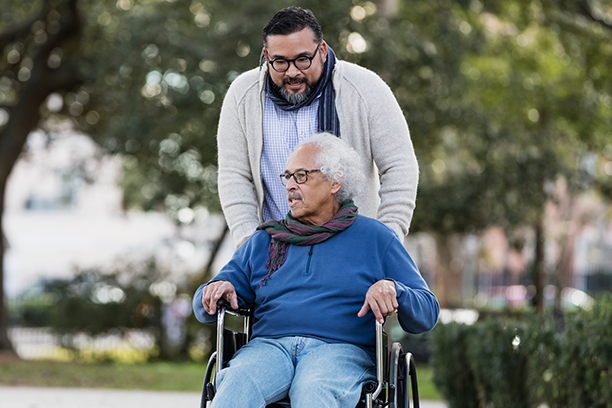 Home Care in Cañon City, CO
Visiting Angels® Pueblo offers personalized home care in Cañon City and the surrounding area to help seniors and people with disabilities live more fully and comfortably at home.
We are a locally owned and operated home care agency serving families in Cañon City, Walsenburg, La Junta, Pueblo West, Trinidad, Lamar, and Penrose. Our caregivers are local professionals who seek to better our shared community through compassionate care.
All of our caregivers have been hired based on their dedication and their abilities. Each has undergone a criminal background check as part of our vetting process.
About Our Home Care Services
If you're caring for a loved one or are concerned about an elderly parent living on their own, Visiting Angels Pueblo can help. Our compassionate caregivers can be there for your loved one in the moments you can't be to improve their comfort, safety, and quality of life.
Every care scenario is unique, so we offer customized home care services based on the unique needs of seniors and their families. The home care we offer to families in the Cañon City area can include the following:
Bathing, dressing, and toileting aid
Assistance with errands and grocery shopping
Basic housekeeping duties
Engaging companionship and conversation
Family caregiver coverage
Walking and transfer support
Reminders for prescribed medications
Meal planning and preparation
Just as the demands of caregiving don't stop for evenings or weekends, neither does our home care. Our caregivers are available 24/7, including weekends and holidays, with flexible scheduling options. We'll be there whenever you want help addressing your loved one's needs.
Our Home Care Process in Cañon City
At Visiting Angels Pueblo, our goal is to enrich the lives of our clients and their families by providing the most comprehensive care. To learn more about your loved one's needs, and those of your family, we'll lead you through these initial steps:
Discussing your situation, our home care services, and the potential costs of care in an initial conversation
Conducting a care consultation with your loved one and others involved in their day-to-day care
Developing a custom care plan that addresses your loved one's care needs and provides essential support for your family
Determining the most ideally suited caregiver for your loved one based on personality, availability, and skill set
What is Personal Care?
For seniors and people with disabilities, many day-to-day activities that once felt effortless can become obstacles to living at home. Our caregivers can assist your loved one with the routine aspects of daily life that they find difficult or time-consuming — or that they may avoid altogether.
Our personal care services can include:
Grocery shopping and errands
Medication reminders
Bathing and dressing
Planning out and preparing balanced meals
Walking and transferring help
Engaging in conversation and shared activities
What is Companion Care?
Social isolation can have a serious impact on your loved one's quality of life, even in the comfort of home. While addressing your loved one's physical care needs, our caregivers can offer companionship, conversation, and meaningful engagement through activities and outings.
Companion care is essential for those who face a shrinking social circle or inability to drive. Companion care helps to ward off the isolation so many seniors face.
Alzheimer's Care and Dementia Care
Millions of seniors are affected by Alzheimer's disease and other forms of dementia that can put their comfort and safety at risk. Our caregivers provide Alzheimer's care and dementia care so seniors with cognitive decline can benefit from the routine and stability of home.
These specialized care services include wandering prevent, medication reminders, and reminders for and an escort to important appointments. Our caregivers can also help your loved one with the day-to-day tasks they may neglect.
Respite Care
As a family caregiver, your own needs often fall to the bottom of the list. However, it's imperative to give yourself time to adequately rest and engage with the rest of your life — both for your sake and for your loved one's. We offer both temporary and ongoing respite care to support family caregivers and help ward off the risk of burnout.
Fall Prevention Support
A simple fall can lead to injuries that severely restrict your loved one's movement and independence.
As part of our Safe and Steady Fall Prevention program, our caregivers can propose adjustments to your loved one's home to reduce fall risk. They can also evaluate your loved one's unique risk factors and provide walking and transfer help.
Hospital Discharge Assistance
Hospital readmission rates are the highest within the first month after discharge. To help your loved one transition safely and successfully home from the hospital, we offer our Ready-Set-Go-Home program. Our care professionals will be there for your family pre- and post-discharge to facilitate a healthy, comfortable recovery.
End-of-Life Care
We offer compassionate end-of-life care for clients facing the end-of-life transition or the final stages of a terminal health condition. Through a range of physical and emotional support services, our caregivers will strive to reduce your loved one's discomfort and ease the strain on your family. They can also take on any routine tasks so your family can focus on each other.
Palliative Care
Palliative care is an option for all of our clients, not just those with serious health concerns. The focus of this home care service is to promote your loved one's well-being on a physical, emotional, social, and spiritual level, so they can find a new richness in the everyday.
Get Started with Home Care in Cañon City Today
At Visiting Angels Pueblo, we're committed to improving the quality of life for every client and their family. To learn more about our home care in Cañon City or to request a no-cost consultation, call (719) 543-4220 today.
Serving Pueblo, Pueblo West, Cañon City, Walsenburg, Trinidad, La Junta, Lamar, and most of Southern Colorado
Visiting Angels
PUEBLO, CO
2628 N Elizabeth St.
Pueblo, CO 81003
Phone: 719-543-4220