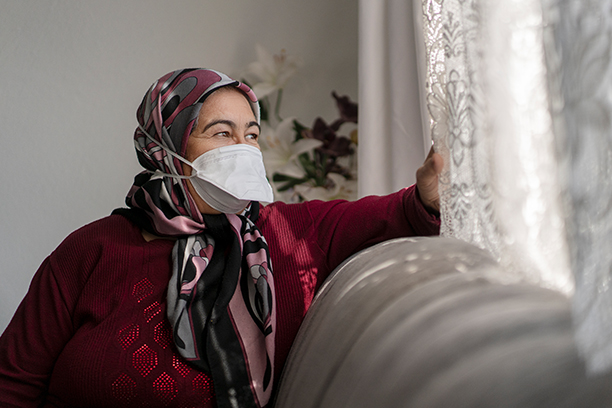 Home Care in Pueblo West, CO and the surrounding area
Visiting Angels® Pueblo provides personalized home care for seniors and people with disabilities in Pueblo West. As a locally owned and operated care provider, we're committed to making each day safer, less stressful, and more fulfilling for older adults in our community.
We serve families throughout the region, including Pueblo West, Trinidad, Cañon City, Lamar, Walsenburg, La Junta, and Penrose. Our caregivers provide the compassionate home care services seniors need to live independently in the comfort of home.
About Our Home Care in Pueblo West
If you're caring for an elderly loved one, you know that each day can present new, unforeseen challenges. At Visiting Angels Pueblo, we offer comprehensive home care services to account for all the ups and downs of aging.
We create unique care plans for seniors that cover a wide range of tasks. Based on your loved one's needs and your family situation, our caregivers can assist in the following ways:
Bathing and dressing assistance
Medication reminders
Everyday errands and grocery shopping
Basic housekeeping
Coverage for family caregivers
Social engagement
Meal planning and prep
Walking and transferring help
At Visiting Angels Pueblo, our flexible home care services are available whenever you want them. Whether your loved one needs in-home support morning, noon, or night, our caregivers will be there to provide it. We have 24/7 scheduling options including holidays and weekends, so your senior loved one will never go without the help they need.
Getting Started with Home Care
To get started with care, first we need to find out more about your loved one, including the people involved in their care. To make sure your loved one gets the care they need to thrive — and that your family feels supported — we'll guide you through the following steps:
Having a conversation about your situation, the care you're looking for, our services and scheduling, and the overall costs of home care
Arranging an in-home care consultation where we go more in-depth about your family's care needs and how we can fully address them
Developing a custom care plan and schedule with your family's input and approval
Identifying the most compatible care professionals for your loved one based on their experience, availability, and personality
Scheduling a first in-home visit where your family can meet and approve the caregiver(s) we recommend for your relative
Respite Care in Pueblo West
As devoted as you are to your loved one, the demands of caregiving are too much for anyone to handle without help. Stepping back to take care of yourself may feel selfish, but it's actually vital — for your loved one and for you. You need to be able to rest and recover to provide the best, attentive care for your relative. It's also the only way to protect yourself from burnout.
We offer respite care for exactly this reason. Let our caregivers take on your caregiving, tasks so you can rest without feeling guilty or anxious. We can cover an hour, an evening, or a full day. We can also make respite care an ongoing part of your home care services.
Personal Care in Pueblo West
Many routine tasks can become obstacles for seniors who wish to remain at home. Basic activities like tidying up, making a meal, or climbing the stairs can get harder and more precarious. Our caregivers can help your loved one with whatever tasks they struggle with, including:
Planning and making healthy, filling meals
Taking their medications as prescribed
Moving around the home and between locations
Bathing, toileting, and getting dressed
Grocery shopping and other outdoor errands
Companion Care in Pueblo West
As well as making sure your loved one's physical needs are met, we also account for their emotional needs. Seniors and people with disabilities are more prone to isolation and depression, often due to physical or cognitive challenge, or changes within their community.
In addition to day-to-day assistance with basic tasks, our caregivers can keep your loved one more connected. Our caregivers are compassionate and engaging individuals who can chat with your loved one about their interests. They can also arrange activities and outings based on your relative's tastes.
Alzheimer's Care and Dementia Care in Pueblo West
The symptoms of Alzheimer's disease and other types of dementia can make living at home more difficult for many seniors. Our specialized Alzheimer's care and dementia care services include safeguard against wandering and other risks.
We can keep your loved one on track with meals, medications, and important appointments, all in an environment that feels stable and secure.
End of Life Care in Pueblo West
For those in the last stages of a terminal illnesses or going through the end of life transition, we offer compassionate end of life care. Our caregivers provide physical and emotional support to reduce your loved one's discomfort and give your family time to simply be with one another.
Palliative Care in Pueblo West
Our holistic palliative care tends to the emotional, physical, spiritual, and social needs of clients with serious medical conditions. Our aim is to make each day more comfortable and enriching for our clients, whatever their life expectancy or age.
Fall Prevention Guidance
Falls account for the most severe injuries among seniors, making it more difficult to live independently at home. We developed our Safe and Steady Fall Prevention program to help seniors reduce their fall risk.
We can recommend enhancements to your loved one's home, identify their risk factors, and provide walking assistance if they need it.
Hospital Discharge Support
The first month after a hospital stay poses the highest risk for readmission. Through our Ready-Set-Go-Home program, we can help your loved one understand and adhere to their discharge instructions, monitor condition, and help them recover safely and comfortably at home.
Get Started with Home Care in Pueblo West Today
Everyone has a right to live where they feel most comfortable. Visiting Angels Pueblo can help.
We are a bonded and insured home care provider with a team of dedicated and thoroughly vetted care professionals. Call (719) 543-4220 today or contact us to book a no-cost consultation for our home care services in Pueblo West.
Serving Pueblo, Pueblo West, Cañon City, Walsenburg, Trinidad, La Junta, Lamar, and most of Southern Colorado
Visiting Angels
PUEBLO, CO
2628 N Elizabeth St.
Pueblo, CO 81003
Phone: 719-415-3120