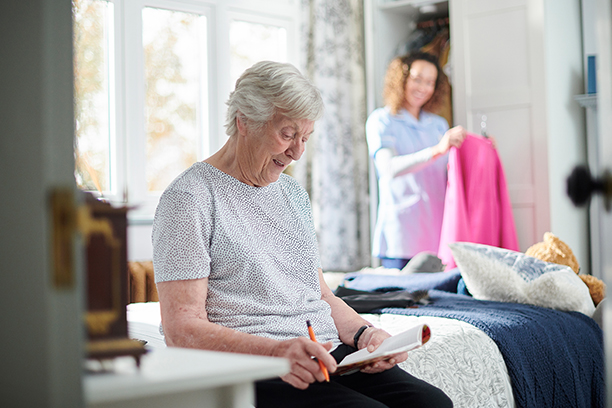 Respite Care in Pueblo, CO
When caring for an aging loved one becomes stressful and exhausting for family caregivers, they know they can rely on the respite care services we offer at Visiting Angels Pueblo, CO.
Our temporary, part-time, and support services give family caregivers a chance to rest, recharge, and look after personal needs while knowing their loved ones are in the hands of dedicated and compassionate caregivers.
Respite Care in Pueblo, CO, and the surrounding area
At Visiting Angels Pueblo, CO, we provide respite care services in the comfort of their own home. Our team of caring, experienced caregivers helps family caregivers relax and relieve their stress so they can focus on meeting their loved one's needs. These are specially tailored plans for each family caregiver, so everyone knows what to expect and how to prepare for a day spent together.
Respite Care Services for Pueblo, CO Area
Our clients rely on our compassionate respite care services to help them manage their personal and professional needs. To ensure we're meeting each senior's exact needs in the Pueblo area, we take a personalized approach to respite care and offer flexible care schedules. Whether your loved one needs Alzheimer's care, helps to manage a chronic condition, or could use a hand around the house, we are committed to meeting their needs.
Our care services for seniors in the Pueblo area include:
Temporary Care: Temporary care services offer support to seniors when family caregivers are away for an extended period, such as due to an emergency or when they or on vacation.
Part-Time Care: With part-time care, we help fill in the gaps in care by providing support a few hours each week. This gives family caregivers a set time to rest, recharge, and take care of personal needs.
Support Care: Our support care services offer a cooperative model of care. Family caregivers and professional caregivers work together to provide care with these services.
Schedule a free in-home care consultation
To learn more about our respite care services, schedule a free in-home care consultation with one of our compassionate care managers at Visiting Angels Pueblo, CO.
Serving Pueblo, Pueblo West, Cañon City, Walsenburg, Trinidad, La Junta, Lamar, and most of Southern Colorado
Visiting Angels
PUEBLO, CO
2628 N Elizabeth St.
Pueblo, CO 81003
Phone: 719-415-3120