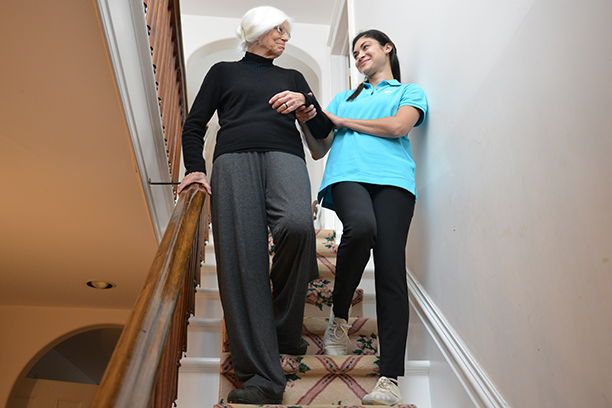 Hospital Caregivers San Fernando Valley
Hospital Caregivers San Fernando Valley
Staying in a hospital can be a tiring experience, no matter if you're there for long or short-term treatment. Hospitals are frequently understaffed, nurses don't have as much time to attend to patients, and medical resources have been sporadically limited in recent years because of Covid-19. It can also be lonely for those who don't have family members nearby, and we believe no one should have to go through a hospital stay alone.
At Visiting Angels, we don't just have in-home caregivers. Our hospital caregivers can aid patients as they are recovering in a hospital. Whether it's a long or brief stay, we can ensure you're as comfortable as possible, so you can thrive once you make it home. We're dedicated to working with you and your family to create a comprehensive system of care that allows us to serve your specific needs.
If you don't want to stay in a hospital alone, call Visiting Angels to learn more about our available hospital care in the San Fernando Valley, CA.
Benefits of Hospital Caregivers
Hospital stays can be complicated, as there are often many changes between admittance and discharge depending on a person's unique health situation. Some patients may be recovering from surgery, while others may be very ill, which can put a lot of physical, mental, and emotional pressure on a person. No matter the situation, almost every type of hospital stay requires a great amount of patience.
While it was possible to comfortably get through a hospital stay alone a few years ago, hospitals are much more overcrowded and understaffed nowadays because of Covid-19 and fluctuating infection rates. This means there's less time for nurses and doctors to properly care for their patients, and patients are forced to sit alone with their ailments longer than ever before. This is where Visiting Angels can help, as the goal of our caregivers is to provide service that makes you feel happy and secure. Instead of waiting for a nurse or doctor to help you for hours on end, our hospital care ensures you always have someone close by who can help.
With our hospital care, you receive the help you need right from your bedside. Our professional caregivers are trained to assist you in any way possible, so you never have to feel helpless during your hospital stay. You deserve to feel as comfortable as possible while you rest in the hospital, and we're prepared to work with you and your family, so our care covers all of your needs.
Our Hospital Care Services
Hospital stays can be unique for nearly everyone, so we fashion our caregiver services to fit your specific needs. From an illness to post-op care, you can depend on receiving quality care from our team of expert caregivers. At Visiting Angels, we're with you through every step of your hospital stay, so you can always get help when you need it.
Below are some of the most common hospital care services we provide in the San Fernando Valley.
Personal Care
No matter why you're in the hospital, your overall health is of the utmost importance. Our personal care services help you maintain personal hygiene and ensure you remain physically fit to prevent any additional health complications during your stay. Our hospital caregivers can also keep any wounds clean and assist you with using the bathroom and daily grooming.
Companionship
Staying in the hospital can be a long and lonely process, as it often requires patients to be away from their families for extended amounts of time. Due to hospitals being understaffed, nurses also can't attend to patients as frequently as they used to, and patients are often left alone in their rooms for most of the day.
Visiting Angels can step in to help with our compassionate companionship services that allow you to remain social while you recover. Whether you want someone to watch television with, play games, or just have someone to talk to, our caregivers are here to make your hospital experience as enjoyable as possible.
Hospitals We Serve
We provide hospital care in the San Fernando Valley, which includes the following locations:
Valley Pres - Van Nuys, CA
Northridge Hospital - Northridge, CA Providence Cedars-Sinai - Tarzana, CA
Sherman Oaks Hospital - Sherman Oaks, CA
Why Choose Visiting Angels
Visiting Angels has been a reliable name in caregiving for over twenty years. We provide specialized care that's customized to fit your schedule, surgery, personal preferences, and health needs. Our seasoned caregivers prioritize your health, safety, and comfort above all else to ensure you can complete your recovery without any complications. When you trust us to care for you or a family member, you get the dedication of people committed to your well-being.
To talk to our team about hospital care in the San Fernando Valley, contact our caregivers today. We look forward to guiding you towards a healthy future.
Serving Reseda, Granada Hills, Porter Ranch, Sherman Oaks, North Hollywood and throughout the San Fernando Valley area
Visiting Angels
RESEDA, CA
17750 Sherman Way #310
Reseda, CA 91335
Phone: 818-206-8121
Fax: 818-742-6246
HCO #194700201